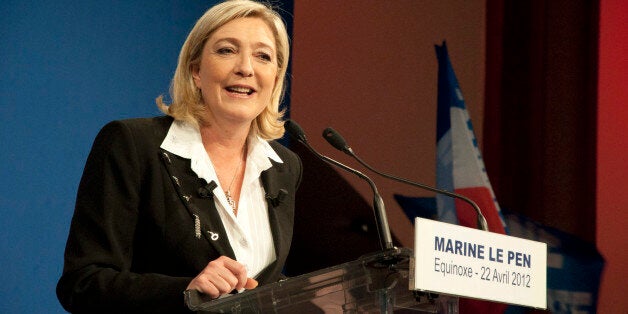 Pressure is mounting from student and anti-fascist groups for debating society The Oxford Union to pull the plug on a debate tonight featuring Front National leader Marine Le Pen.
The university's students' union has become the latest to speak out against the far-right Le Pen's attendance on campus today, joining groups including United Against Fascism (UAF), MEPs and senior faculty.
The Oxford Union says it believes "first and foremost in freedom of speech: nothing more, nothing less" and has so far resisted pressure from 'no platform for fascists' supporters and those who feel her presence would be disrespectful just days after the 70th anniversary of the liberation of Auschwitz.
More than 200 demonstrators are planning to protest Le Pen's address at Thursday night's event, with coaches from London universities bringing with them students angry at the Union's decision to invite her.
The debating society prides itself on being at "the cutting edge of controversy", having previously held addresses from Malcolm X, former US President Richard Nixon, Gerry Adams and O. J. Simpson, but after a week's protestation against Le Pen's invite, shows no signs of bowing to the pressure.
In a statement, UAF said Le Pen's party remained riddled with fascists and that inviting their leader to the event promoted and legitimised fascism in wider society.
"The Union must reverse the decision to invite this notorious Islamophobe," the group said.
"The Front National follow in ex leader Jean Marie Le Pen's footsteps in their racism and fascism."
A spokesperson for The Union told The Huffington Post UK that it was a politically-neutral organisation and that an invitation to speak at an event was not an endorsement of the views espoused.
"We believe in the principle of freedom of speech and we would encourage all members who disagree with an invited speakers view to attend the event and question the speaker," they said.
"We allow our members to meet people face to face and make their own minds up. We invite no speakers who do not accept the right of our members to question them."
Popular in the Community