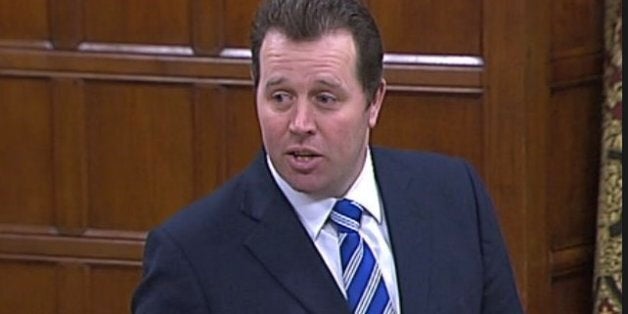 A Tory MP stunned fellow parliamentarians after defending the benefits system that left a jobseeker with learning difficulties without food or electricity after he was four minutes late for a Jobcentre appointment.
Conservative backbencher Mark Spencer, who represents the Nottinghamshire constituency of Sherwood, made the controversial remarks during a debate on the state of poverty in Britain on Wednesday afternoon in Westminster Hall.
Labour MP Lisa Nandy, shadow civil society minister, told fellow parliamentarians about how a vulnerable person in her constituency of Wigan suffered after having his benefits taken away under the controversial sanctions regime.
"Several times this year I have had to refer a gentleman with learning difficulties to Denise (the local Reverend) for food due to him having sanctions on him for turning up late," a local councillor had told her. "The gentleman can't tell the time and is a recluse. He has been found sitting in his flat in the dark with no electric or gas. He won't ask for help."
"Only for the old neighbours watch out for him and contact myself heaven knows what would of happened to him. I was informed he has to get a letter off the doctor for an electric card…The lad turned up at my door the other night. He hadn't eaten for 5 days. He looked like he was dying."
The Department for Work and Pensions (DWP) has so far defended the regime, with senior official Neil Couling causing controversy after he argued that sanctions can provide a "welcome jolt" to those affected.
In response to Nandy's speech, Spencer said that people like him needed to learn "the discipline of timekeeping", and suggested the education system needed to improve to cure the constituent's learning difficulties.
He added: "I hope that the Hon. Lady [Nandy] appreciates that people who work very hard, and who might be earning very small amounts from working 50 hours a week, have to turn up to work on time. If they are late for their employment, they might be sanctioned by their employer."
Spencer's remarks, which have caused a stir online, outraged Labour MPs as he spoke in Westminster Hall. Nandy remarked that his "patronising tone" showed "exactly why people throughout the country are so angry with the Government". Fellow Labour MP Debbie Abrahams warned Spencer to be "be careful in what he says".
Political scientist Rob Ford, from Manchester University, accused Spencer of telling job-seekers who miss their appointments to, in effect, "starve in the dark".
Others mocked Spencer for suggesting people with learning difficulties just need to "learn timekeeping" and get cured of their "congenital problem".
During the debate, the Tory MP refused to back down, saying: "I think that that emphasises the importance of the education system in solving the challenges that we face as we move forward. We must try to ensure that the employees of the future are in the best place to be able to take on a career and move forward with a job."
Spencer was later rebuked by Nandy after he dismissed her concerns about poor people being unable to afford "good quality food" by pointing out that "products such as potatoes and fresh carrots are actually the cheapest sources of food available".
Nandy said: "I am sure that if the Hon. Gentleman [Spencer] went down to a local food bank in his constituency and explained to his constituents that they should be buying carrots and potatoes, they would thank him for that in May. That is the sort of attitude to people whose poverty has been caused by the Government that does his party so much harm, and deservedly so."
She later urged the government to ensure "that in future no one will be sanctioned for having learning difficulties that prevent them from being able to tell the time."