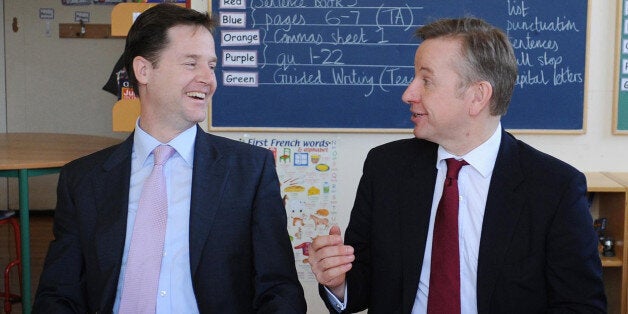 Tory Chief Whip Michael Gove has hit out at the Liberal Democrats, accusing them of trying to take the credit for Conservative policies in government.
Gove said it was a "myth" that the Lib Dems had a monopoly on compassion in the coalition and that the "driving energy" for social progress had come from Conservative ministers. He warned that the Lib Dems could now end up "propping up" a Labour government after the general election in May - possibly in coalition with the Scottish Nationalists.
He highlighted Lib Dem opposition to Tory proposals for private schools to do more to help poorer students, ensuring the poorest received the most in school funding, and prioritising money for participation in sport and music.
"It is a myth to argue that the compassion in the coalition is a Liberal Democrat monopoly, or progressive policies depend on Lib Dem ministers. Far from it," he said.
"I respect the contribution made by individual Liberal Democrats but the driving energy for social progress in this parliament has been generated - first and foremost - by Conservative ministers."
He said that some of the policies for which the Lib Dems had been - "entirely understandably" - keen to claim the credit,
had actually sprung originally from Conservative sources.
"The idea of guaranteeing universal free school meals for primary children came out of the Conservative-commissioned school food plan and was first suggested to Liberal Democrat ministers by Conservatives," he said.
His claims are likely to infuriate the Lib Dems after a furious row within the coalition over the scheme last year, with a former adviser to Mr Gove dismissing it as a "bad gimmick" by Deputy Prime Minister Nick Clegg.
Gove, who has made only occasional public interventions since his demotion from education secretary last year, said a vote for the Lib Dems in the forthcoming election increased the chances there would be a Labour government - possibly one reliant on SNP support.
"Such a government might therefore have to impose policies on English voters designed explicitly to appease Scottish separatists," he said. "Indeed it might even have to accept Alex Salmond as deputy prime minister, or chancellor, to stay in office.
"After the competent administration of the last five years we would have chaos. It is a risk I believe we should do everything to avoid.
"A Miliband-led administration reliant on the support of minority parties risks creating not a zombie parliament but a Frankenstein administration - a stitched together creation capable of causing great harm."
A Lib Dem source said: "Not content with trying to rewrite the history curriculum, Gove is now trying to rewrite history itself.
"The pupil premium was a Liberal Democrat demand in the coalition negotiations - an additional £2.5 billion for the most disadvantaged children to help them get on in life. Everyone also knows that it was the Liberal Democrats who delivered free school meals for all infants whilst the Tories were more bothered about a tax cut for married couples.
"If the Tories cared in any way about improving the life chances of the next generation they would not have come forward with the outrageous suggestion in 2010 that the Government should cut the schools budget - something we blocked.
"To see their true colours you just have to look at their weak proposals going forward - a real terms cut for schools, and no protection for early years education or further education. A majority Tory Government is the biggest threat the country faces to our schools, and public services."