Under 25s are a three million-strong voice and have the power to drastically impact on all of the political parties' fortunes this coming general election on May 7.
The huge influence of young people on the election outcome was reaffirmed on Friday, as the Cabinet Office announced it had experienced a record-breaking 166,000 sign-ups in one day to vote as the result of National Voter Registration Day, bolstered in part by the help of youth-engagement promoting organisations like the NUS and BiteTheBallot.
The unprecedented figure blew the previous all-time high of 51,000 well and truly out of the water and was a big step towards helping resolve the "national scandal" that revealed 30% of young voters had not yet registered to vote, potentially leaving them without a voice in parliament.
So given the importance of politicians securing the student vote, we asked those in further and higher education to tell us what it will take to win them over.
We all know how this promise went...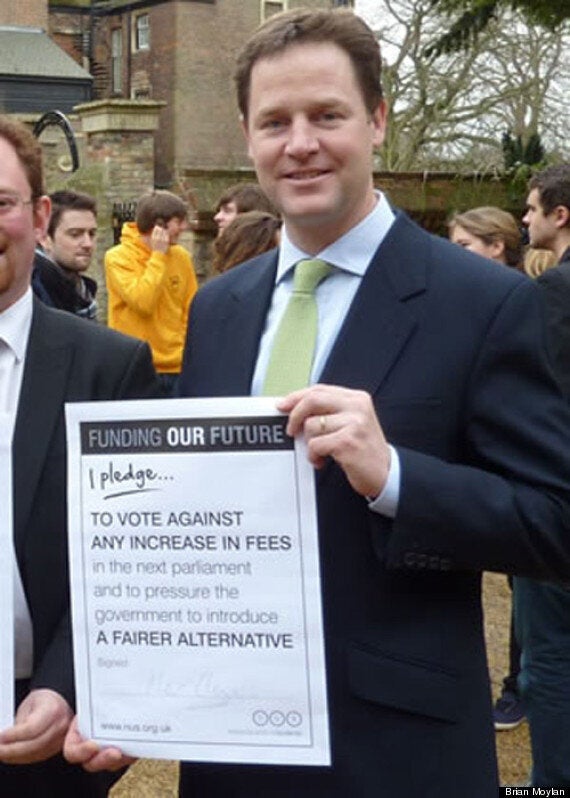 But what do students say are their top-priority policies?
Well in amongst the odd jape...
... there were lots of passionate policy pleas.
Tuition fees feature heavily; there is widespread support for free education, as proposed by the Greens, and one also advocated by UKIP - although only for those taking up STEM subjects - as well as for a reduction in fees, a policy Labour is tipped to support.
An overhaul of the student loan system was also popular, with calls for greater help for post-grads (backed by the Conservatives) and a boost in funding towards maintenance costs.
But social issues also came under the microscope, with many calling for housing and health reforms...
In an attempt to bring issues such as these to the attention of politicians, students in Nottingham last night launched the 'Notts Student Manifesto' in a bid to encourage under-25s to vote in May.
The 15 page-long document, which called for tighter landlord controls and sexual consent classes for children, was launched by representatives from the city's two universities, Nottingham University and Nottingham Trent, and New College Nottingham.
Conservative candidate for Nottingham North, Louise Burfitt-Done, said students were an important part of the community, telling the Nottingham Post their voices "will be closely listened to by my campaign". would be listened to.