David Cameron is urging businesses to give their employees pay rises but a union leader has condemned this as "pre-election mood music" and said the prime minister has presided over the worst fall in living standards since the Victoria era.
Cameron will tell the British Chambers of Commerce annual conference that economic success should be demonstrated not just in the GDP figures but in the contents of workers' wallets.
The prime minister, who hopes growing economic confidence will help him win the general election, will highlight the above-inflation rise in the minimum wage, as he tells bosses: "It's time Britain had a pay rise."
He will say: "Economic success can't just be shown in the GDP figures or on the balance sheets of British businesses ... but in people's pay packets and bank accounts and lifestyles.
"The most recent figures show that wages are already growing faster than inflation and as the economy continues to grow it's important this continues and that everyone benefits. Put simply - it's time Britain had a pay rise."
He will also say that the "astounding job creation" in the economic recovery meant "1,000 more people in work, on average, every single day since the election" in 2010.
But TUC General Secretary Frances O'Grady dismissed Cameron's call, saying: "Since David Cameron became Prime Minister, the average wage is worth £2,500 less a year, the worst fall in living standards since Queen Victoria was on the throne.
"Saying it would be nice if wages went up is no more than pre-election mood music. If elected again his policies would do the opposite.
"Huge cuts would take spending back to the same share of the economy as in the 1930s. This would depress the economy and mean public sector wages would fall every year.
"On top of that he would make strikes almost impossible, holding back pay across every sector."
Cameron's speech will say his government is delivering "the first real-terms increase in the minimum wage since the crisis".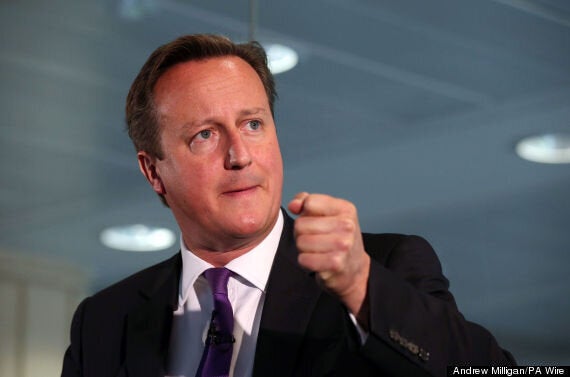 David Cameron's comments were condemned as 'pre-election mood music' by the TUC
Unite general secretary Len McCluskey said: "If Cameron was serious about giving Britain a pay rise then he'd put his money where his mouth is and immediately boost the minimum wage by at least £1.50 an hour with the promise of a living wage.
"Instead we have empty words, which don't put food on the table or pay the rent."
He will tell the conference: "The conditions have not been this good for a long time. We've got the strongest growth for seven years.
"We are seeing falling oil prices, meaning businesses up and down the country have lower prices on their inputs.
"Inflation is at 0.5%. Now that your costs are falling and it's cheaper to do business, I'm confident that more businesses will pass on that good economic news to their workers in rising pay cheques and higher earnings.
"That's good for your employees, it's good for you to have happier and more productive staff and frankly it's good for anyone who wants to make the argument for business.
"Because for us business is not a conspiracy of runaway profits, depressed wages, inequality and unfairness ... it is the best generator of growth, wealth, work and opportunity there is and there would be no better way to demonstrate that right now than to give Britain a pay rise."
John Longworth, director general of the British Chamber of Commerce, told the BBC he believed some businesses already had given workers a pay rise and expected more to follow suit.
He said: "Broadly it's a good thing. As I go around the country and the economy picks up I see businesses giving pay rises. It helps spread the benefits of economic growth... I'm expecting to see increasing wage rises.
"They (businesses) are working hard where they can get to a point where they can share growth."