'Taking macabre to new heights.' That was one critic's description of 'Penny Dreadful', Sky's gothic chiller, set in darkest, foggiest Victorian England, which unites brand new characters with some of literature's most haunting figures, thanks to the febrile imagination of show creator and writer John Logan.
Logan is celebrated for his big screen scripts, from 'The Aviator' and 'Gladiator' to the recent record-breaking 'Skyfall', and he's already hard at work on the next James Bond film. But his greatest influences remain the literary monsters he read about in his childhood, and he has succeeded in bringing them all too powerfully to life in this psychological thriller of a series, recognised at TV's Most Exciting New Series at the 2014 Critics Choice Awards.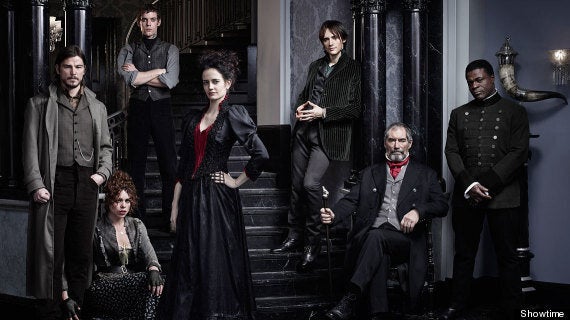 The characters of 'Penny Dreadful' are united by a sense of isolation, temptation and despair, but also curiosity
Back towards the end of the 19th century, 'penny dreadfuls' were works of fiction produced en masse, never intended as great literary efforts, instead small weekly instalments of eight-page (sometimes stretching to 16) fiction, designed to titillate, shock to the bone, thrill a generation of readers during an era of fresh curiosity into spiritual, scientific, sexual matters.
Over eight suspenseful hours, 'Penny Dreadful' tells the story of an unlikely group of individuals, brought together by their sense of isolation, and search for redemption through their sense of the supernatural.
Logan reveals his inspiration behind the show was two-fold – the Romantic poetry and Gothic horror of his childhood books, but also his sense of alienation, even monstrosity, as a young secretly gay man growing up in America – and that sense of 'otherness' is palpable throughout 'Penny Dreadful'.
He brings this same sensation to his catalogue of what he calls 'literary monsters' included here – in addition to Jack the Ripper who, we learn, is out there somewhere, terrorising London (did I mention there's a lot going on?).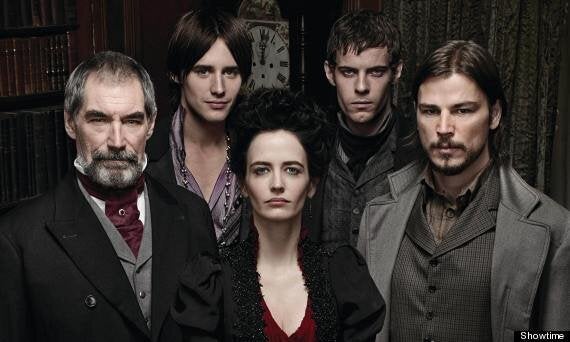 'Penny Dreadful' unites characters both original and very, very familiar
Following in the footsteps of Hammer House and Hollywood, Logan has brought to life again the great Victorian dread-legends we first met in Mary Shelley's 'Frankenstein' and Bram Stoker's 'Dracula', as well as that timeless ghost of youthful beauty, Oscar Wilde's Dorian Gray. Logan says they "all express something about inner fear and anxiety being manifested physically through monstrousness and deviant behaviour", and that his aim is to return to these "sacred, essential texts" and give them some contemporary "granular" reality.
Reeve Carney plays Dorian Gray - he of Wilde's picture in the attic. This figure seems to have popped up everywhere in popular culture over the last century – from Jim Morrison and James Dean to Twilight's Edward Cullen (with Christian Grey latterly giving him a new twist). In 'Penny Dreadful', Dorian is just as Oscar described him, hauntingly beautiful, seductively, androgynously so, and yet lonely, self-isolating, seemingly doomed to eternal youth and solitude.
Rory Kinnear plays Frankenstein's Monster – brought to life and then casually abandoned by his creator. John Logan has him tracking down Frankenstein (Harry Treadaway) and insisting that a mate be created for him – a request complicated by the Monster's affections for actress Maud Gunneson (Hannah Tointon), who has a jealous partner Simon drawn from similar strokes as Charles Dickens used for Nancy's rogue Bill Sykes. See, everything is connected, reassuringly so.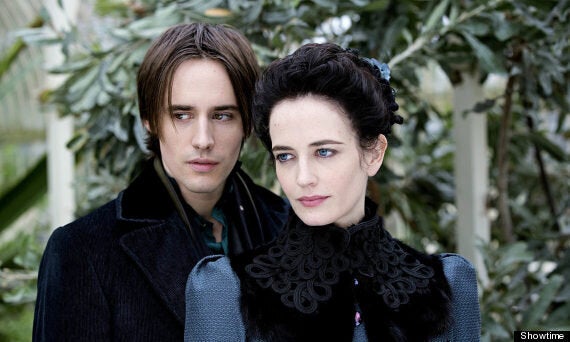 Dorian Gray is as seductive but solitary as he ever appeared in Oscar Wilde's tale, and in countless incarnations since
Frankenstein's monster was, John Logan admits, his favourite of all because of his own youthful reaction to this lonely character. He told Collider website, "I literally cried, reading about the pathos and suffering of that poor, vengeful, monstrous creature."
Victor Frankenstein is younger here than you would perhaps imagine him from reading the books, but he remains supremely arrogant, his God complex telling him the whole world revolves around his research.
Although firmly set in the dark, cloistered setting of his age, Victor's is a character, the contradictions of whom will always be relevant. We've seen HIS type through countless fiction – from Peter Sellers' Dr Strangelove to Oscar Isaac's recent entrepeneur Nathan in 'Ex Machina', given a benevolent twist by mad-haired Christopher Lloyd as Doc in 'Back to the Future'. Logan explores fully the complexity – what these people give the world with their unique vision and the discipline to follow through, but tainted by their lack of collegiate accountability, empathy, concern for the risks of their experiments or any sense of responsibility when it goes wrong.
"It's not a new concept," is what Oscar tells HuffPost UK. "The nutty inventor locked away with a low view of humanity, and a high opinion of his own work.
Frankenstein here, though, is offset by his colleague Abraham Van Helsing, a character we first encountered in Bram Stoker's Dracula. John Logan has played free and easy with these characters' timelines, but he's not the first. The writer explained to Collider, "I remembered the old Universal horror movies of the '40s where, all of a sudden, they would start mixing and matching the Wolfman with Dracula and with Frankenstein."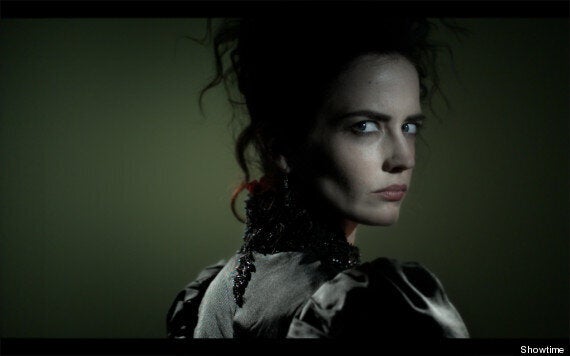 In Vanessa Ives, Eva Green brings us a very contemporary heroine of the Gothic era
As well as these "literary monsters", Logan brings us Josh Hartnett as American sharpshooter Ethan Chandler, more troubled than he initially realises. Billie Piper is a heart-wounded prostitute, Timothy Dalton is a grief-wracked explorer determined to discover the fate of his daughter through whatever means are required. Helen McCrory is spiritualist Madame Kali, while Simon Russell Beale is an Egyptologist with his own secrets.
The protagonists of original penny dreadfuls were invariably male youths – with all those hormones and testosterone buzzing around – but John Logan has given us a very contemporary heroine, despite her ghostly pallor and bustling corset. Former Bond girl Eva Green (spotting a theme here?) is Vanessa Ives – beautiful, often silent, but gifted with inexplicable insights into the supernatural world.
What brings these characters to life, bouncing off the pages of those old paperbacks and onto the screen, is the producers' commitment to naturalism - as Showtime president David Nevins promised, 'NOT Bella Lugosi', and John Logan's commitment to "giving them a gravelly reality". Frankenstein's monster may be the most famous for so doing, but here they all come storming back to life in the glorious outward expression in this surprisingly personal expression of everything John Logan holds dear – as he explained on the eve of the series launch:
"Personally speaking, growing up as a gay man before it was as socially acceptable as it is now, I knew what it was to feel different, to feel alienated and to feel not like everyone else. But the very same thing that made me monstrous to some people also empowered me and made me who I was."
'Penny Dreadful' Series 1 is available on DVD box set and on video download.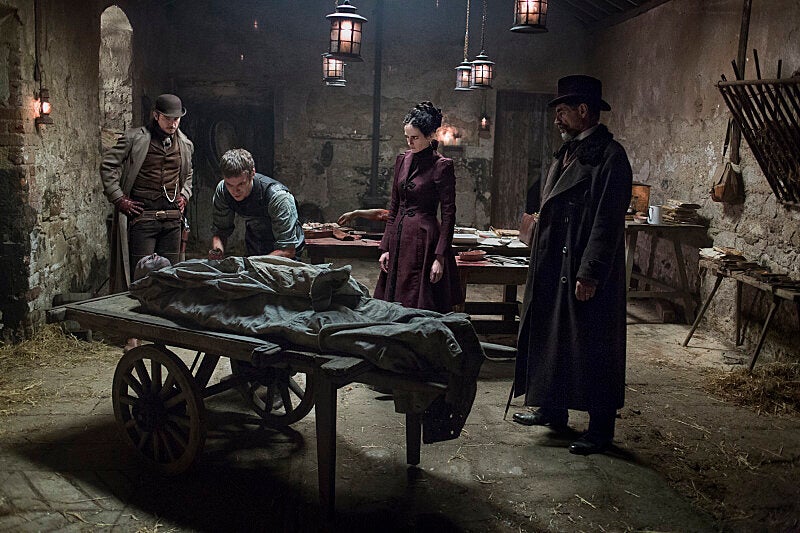 "Penny Dreadful"