David Cameron is "rotten" and a "dodgy prime minister surrounded by dodgy donors", Ed Miliband said during a highly personal exchange at Prime Minister's Questions.
"He took the money. He gave a job to the head of HSBC. And he lets the tax avoiders get away with it. There is something rotten at the heart of the Tory party and it's him," the Labour leader rounded off, pointing at his rival across the chamber.
Cameron accused Miliband of "desperate stuff" in response, mocking the party over shadow education secretary Tristram Hunt's remarks about the quality of nuns' teaching. "They've even offended nuns, no wonder people look at Labour and say they haven't got a prayer," he quipped.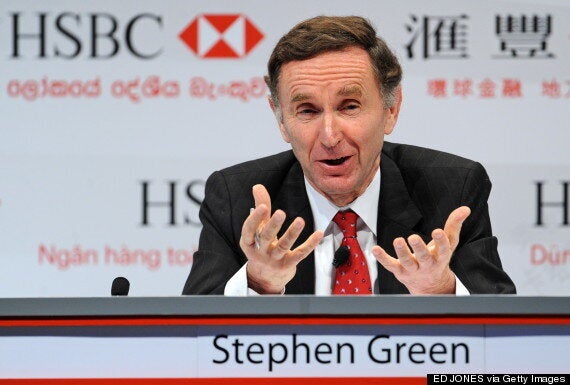 Lord Green ran HSBC before going on to be a Tory peer and the coalition's trade minister
Stephen Green has been dragged into a furore over tax evasion as he used to chair HSBC before taking a Tory peerage and joining the coalition. The bank has been has faced accusations of helping clients cheat the UK public purse out of millions of pounds in tax by using Swiss bank accounts, according to an explosive treasure trove of leaked accounts.
Public accounts committee chairman Labour MP Margaret Hodge, chair of the influential Public Accounts Committee, said the former trade minister faced "serious questions'.
"Either he didn't know and he was asleep at the wheel, or he did know and he was therefore involved in dodgy tax practices," she went on. "Either way he was the man in charge and I think he has got really important questions to answer."
HSBC was forced to issue an apology after a United States Senate committee found that over the last ten years the bank had provided services to some lenders in Saudi Arabia and Bangladesh believed to have helped fund al Qaeda and other terrorist groups.
Now the details of 30,000 accounts holding almost £78 billion of assets are being revealed after they were obtained by a French newspaper and analysed by a team of investigative journalists, with the files reportedly including nearly 7,000 British clients.
In a statement to the Guardian, HSBC said: "In the past, the Swiss private banking industry operated very differently to the way it does today. Private banks, including HSBC's Swiss private bank, assumed that responsibility for payment of taxes rested with individual clients, rather than the institutions that banked them. Swiss private banks were typically used by wealthy individuals to manage their wealth in a discreet manner.
"HSBC has cooperated and continues to cooperate to the extent that it can with requests for information from governments regarding account holders. However, providing client data to foreign authorities would itself constitute a criminal offence under Swiss law."
Popular in the Community