Early viewers of the highly-anticipated 'Fifty Shades of Grey' have exited the cinema in a flurry of conflicting emotions, it seems, judging by the mixed bag of reviews coming from the US, where the embargo has been lifted.
Ahead of the UK release at the end of this week, the word on the street is that the film - the beyond-hyped adaptation of ELJames' uber-selling tome - adequately tells the tale of ingenue Anastasia Steele and her introduction into the intimate world of enigmatic entrepreneur Christian Grey. The critics say...
"The chemistry between Johnson and Dornan is decent, even if they do seem to be acting in different movies. Dornan's Christian is a humorless caricature, while Johnson's Ana is actually quite likable, funny and strong-willed." (Lindsey Bahr, AP)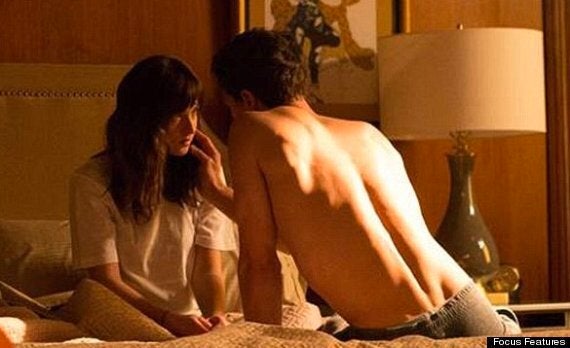 Christian Grey's pants-on technique during most scenes is frowned upon by some fans of the book
"Dornan, a charismatic presence, largely nails (among other things) the combination of intense formality and playful lewdness that defines Christian Grey, but he proves rather less skilled at illuminating the inner life of a sexual deviant (Justin Chang, Variety)
"Grey is adequately played by Jamie Dornan, but he's essentially a cipher for his thousand dollar watches, crisp ties and a fleet of Audis... The real find in Sam Taylor-Johnson's better-than-it-has-to-be adaptation of the risibly written and ludicrously popular softcore novel is Dakota Johnson. (Jordan Hoffman, Guardian)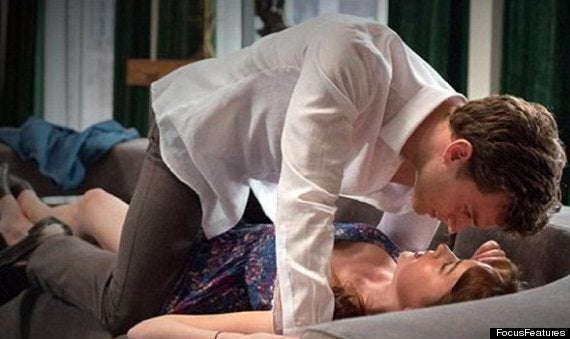 Dakota Johnson has received praise for her portrayal of wide-eyed ingenue Anastasia Steele
Never mind that, what about the sex - causing titillation or just titters in the expectant crowds?
"The sex scenes in Fifty Shades of Grey are numerous, lengthy and frank, but they aren't smutty. Only occasionally does it dip into Red Shoe Diaries-territory. The ropes, cuffs and collars are all standard issue kink." (Jordan Hoffman)
"Those looking for hot, kinky sex will be disappointed. Fewer than 15 of the movie's 125 minutes feature sex scenes. Discussion of contracts and objections over line items outweigh erotica. Even the graphic nudity grows numbing. (Claudia Puig, USA Today)
"A stronger proposition than the book because it strips away the oodles of cringe-inducing descriptions and internal monologue that tip the text heavily toward self-parody." (Sheri Linden, Hollywood Reporter)
"Nobody in the movie has visible genitals. Christian in particular seems to do a whole lot of stuff in the playroom with his shirt off but his pants on, which cannot be comfortable for such an active young man. But even more frustrating to voyeurs, nobody sweats, nobody strains, nobody loses control or even fakes losing control by simulating an orgasm." (Lisa Schwarzbaum, Entertainment Weekly)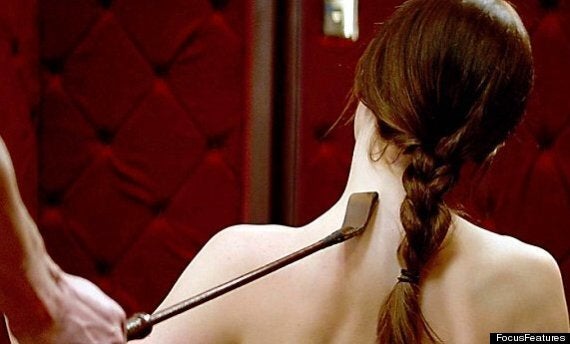 The film's reviews are mixed, but a lot better than they could have been...
Call me old-fashioned... What of the story - you know, the bits in between?
"It's a slow build to the smutty bits, and one that's disappointingly devoid of tension." (Sheri Linden)
"Praise is due for how the notorious "Red Room of Pain" is introduced. It isn't that campy, and yet we are supposed to laugh."(Jordan Hoffman)
"The final half-hour or so is punishing in more than just a literal sense, bringing us to a less-than-scintillating cliffhanger." (Justin Chang)
"By boldly stripping away the book's iconic but most preposterous elements the film ultimately holds up as a stylish and simmering power struggle between a kinky billionaire and the innocent college grad for whom he inexplicably falls." (Josh Dickey)
All in all, then, it seems there's a general 'COULD HAVE BEEN A LOT WORSE' to the reviews. However, with pre-release booking of cinema tickets breaking records on both sides of the Atlantic, I doubt the stars, the producers or cinema-owners will be worried about the word on the street. In fact, with those kind of ticket sales… they have to lot to feel tickled about.
Can't wait to get the cinema? Have a sneak peek at the movie with these clips...
Related