"It was not the best night in my life, but the morning, I think, is good because we have managed to agree on the main things despite all the difficulties of the negotiations," Vladimir Putin told reporters.
So frustrated was the Russian leader during talks, he appeared to snap a pencil in two.
The deal was full of potential pitfalls that could derail its implementation, however. There are several issues still to be resolved and with ceasefires having a history of collapse over the past 12 months, many have expressed scepticism about the new deal.
Here's why that might be: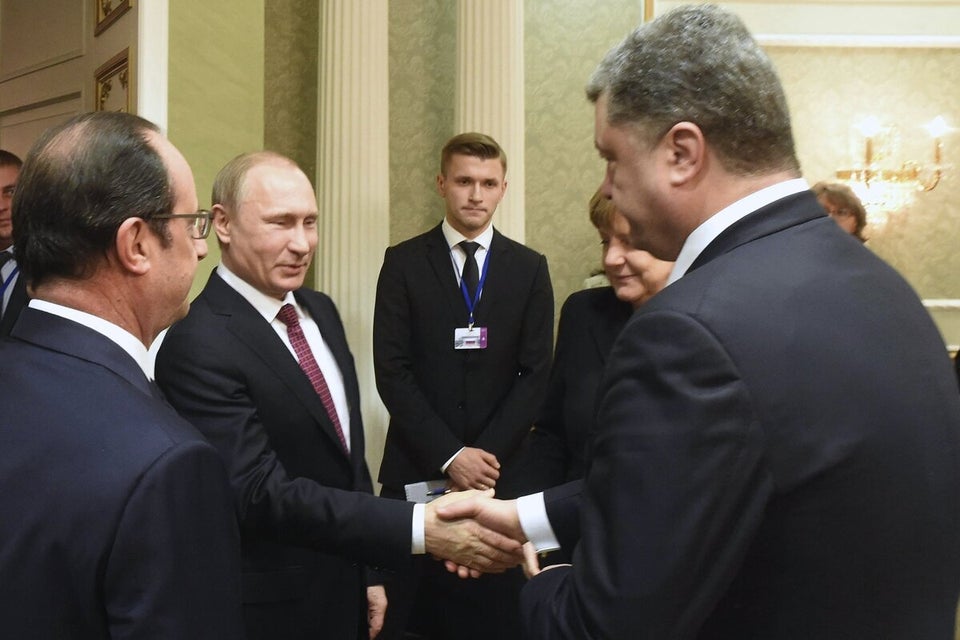 11 Reasons To Be Pessimistic About The Ukraine Ceasefire Deal
----------------------------------------
More than 5,300 people have died since April in the fighting in eastern Ukraine between Russian-backed separatists and government troops. The new deal envisages a buffer zone created by pulling back heavy artillery and rocket systems 31 to 87 miles away from the front line, depending on their caliber. The withdrawal should begin no later than the second day after the cease-fire becomes effective and it should be completed within two weeks.
French President Hollande said he and German Chancellor Angela Merkel are committed to helping verify the cease-fire process in Ukraine, hailing the deal as a "relief to Europe."
Poroshenko stressed that the agreement contains "a clear commitment to withdraw all foreign troops, all mercenaries from the territory of Ukraine," a reference to the Russian soldiers and weapons that Ukraine and the West say Russia has sent into eastern Ukraine to back the rebels. Moscow has denied the accusations, saying any Russia fighters were volunteers, but the sheer number of sophisticated heavy weapons in the rebels' possession belies the denial.
Merkel said, in the end, Putin exerted pressure on the separatists to get them to agree to the cease-fire. "I have no illusions, we have no illusions. A great, great deal of work is still necessary. But there is a real chance to make things better," she said.
The French-German diplomatic dash came as President Barack Obama considered sending US lethal defensive weapons to Ukraine, a move that European nations feared would only widen the hostilities.
The urgency felt by all sides appeared to be underlined by the extraordinary length and discomfort of the talks, which began Wednesday evening and continued uninterrupted through the night.
Crowds of reporters waited anxiously in a marble-floored, chandeliered convention hall in Minsk, with one whisked away by doctors to be treated for exhaustion, according to the Interfax news agency.
Popular in the Community