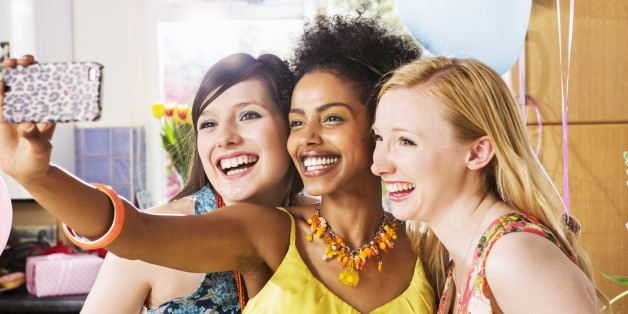 Betsie Van Der Meer via Getty Images
The day before Valentine's Day, expect to see restaurants, bars and cafés jam-packed with happy looking ladies.
Because 13 February is Galentine's Day.
The idea of Galentine's Day originated on TV show Parks and Recreation. Leslie Knope ( played by Amy Poehler) created the holiday to celebrate girl power and female friendship.
It's also a nice way to counteract the onslaught of white teddy bears, crap roses and cheap chocolates that will inevitably descend on Valentine's Day.
Our very own Lifestyle senior editor Brogan Driscoll is embracing all things Galentine's Day by jetting off to Dubai to spend some time with her bestie - whose birthday happens to fall on Valentine's Day.
And she isn't the only one getting in the Galentine's Day spirit.
This is the best #GalentinesDay present ever! Flowers from @gamedaypr. pic.twitter.com/RadnmiqMIb

— Tricia Suit (@tesuit) February 12, 2015
Thank you @parksandrecnbc for the idea of Galentine's Day! We thoroughly enjoyed the breakfast food #GalentinesDay pic.twitter.com/19iMcmKXh3

— 2 N's no H (@hannajirl) February 12, 2015
Can't wait to celebrate #GalentinesDay with the smartest, most uplifting ladies I know! 💖 @smrtgrls pic.twitter.com/LDgMGNbJX1

— Łizzy (@NizzyLealon) February 11, 2015
Postsnap - the app that lets you send personalised greetings cards from an iPhone or iPad - say 30% of their Valentine's cards have been sent between female friends this year.
And according to experts at Icelolly.com, there's a surge in same-sex couples, who are platonic friends, booking to go on holiday together around Valentine's Day.
Commenting on the Icelolly.com findings, social and cultural anthropologist Jean Smith said: ""There's definitely a lot less pressure and a lot more freedom when one goes away with their best friend.
"A friend could say that they'd prefer to do something else that day, possibly even on their own, without fearing this may create a scene. It's just more relaxed and this is what a holiday should be all about, Valentine's Day or not."
Whether it's spent splashing-out on weekend away or popping to the pub with our best mates, Galentine's Day reminds us that it's not just romantic relationships that are worth celebrating.
So grab your gals and do something fun this 13 February.
SEE ALSO:

20 Reasons Why Best Friends Are, Um, The Bestest

21 Things That Happen When One Of Your Best Friends Gets Engaged