Upon first sight of these two young men punching the air with joy and beaming for the cameras, one could be forgiven for assuming they are lottery winners.
But the reason for Corey Savory and Thomas Vernon's unbridled glee was quite different.
The pair, both 23, were pictured leaving Teeside Crown Court after being handed suspended sentences for a "ferocious" assault which saw a man punched and kicked as he lay on the ground.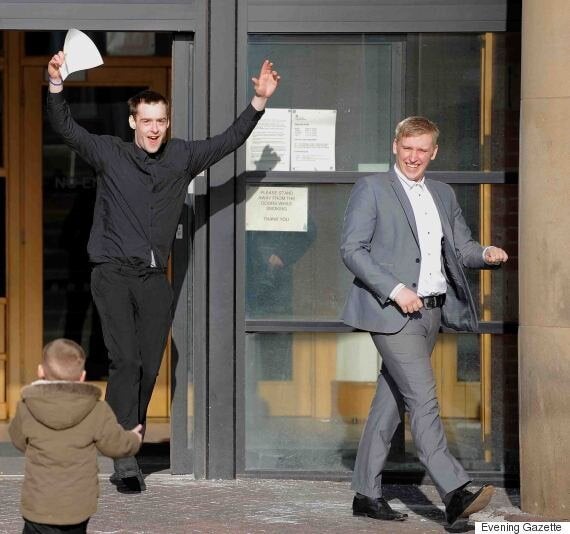 Corey Savory and Thomas Vernon leave Teeside Crown Court
The display of delight came just minutes after a judge accepted their expressions of "genuine remorse" over the unprovoked attack on the man following an encounter outside a pub on Redcar High Street on 30 March.
The incident saw the victim challenge and pursue the pair after he was hit in the face. As they ran into a nearby property a third, unidentified attacker felled the man. At this point Savory and Vernon re-emerged and proceeded to assault him, leaving him unconscious.
Thomas Vernon gives a thumbs up to the cameras
CCTV footage of the assault was played in the courtroom, the Gazette Live reports. The man was left with a permanent scar to his forehead.
Both Savory and Vernon admitted assault causing actual bodily harm. They sat with their heads bowed in the dock and at one point reportedly shed tears for their victim.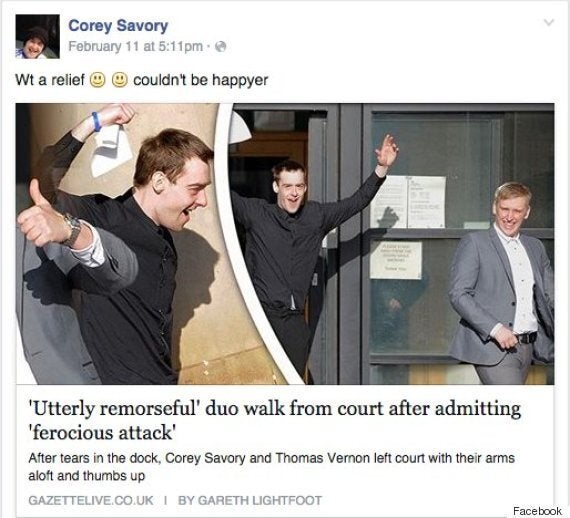 Uzma Khan, for Savory said he was "utterly remorseful" and that the two friends had never set out to cause injury.
A court clerk confirmed to Huffington Post UK both men were sentenced to eight months suspended for 18 months with supervision and ordered to pay £100 compensation to the victim, payable at £5 a week.
Savory for his part appears delighted with the coverage, posting on his Facebook page on 11 February: "Wt a relief couldn't be happyer [sic]", along with two smiley-face emoticons.