Fred Talbot hid his sex crimes from the world but the prolific diary writer confided his secret lusting for young boys in the pages of his journals.
In meticulous hand-written entries from before his career as a TV weatherman, each carefully dated, he told of his sexual desire for under-age boys and his anxiety at "how often I am seen with kids".
He marked some of with hand-scrawled asterisks. When officers discovered the cache of journals, he insisted these markings referred to panic attacks he suffered, but later confessed to his lawyers that they denoted his sexual encounters.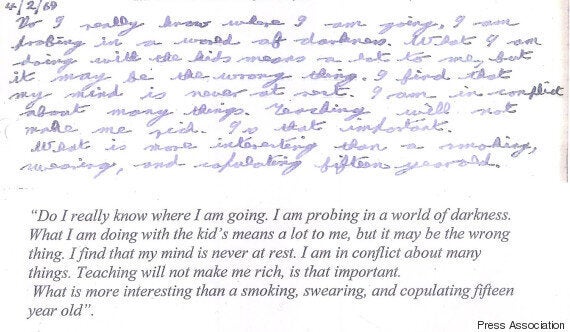 Fred Talbot's diary entry from February 1969
In a diary extract dated February 4 1969, when he was beginning his teaching career, he wrote: "Do I really know where I am going, I am probing in a world of darkness. What I am doing with the kids means a lot to me, but it may be the wrong thing. I find my mind is never at rest. I am in conflict about many things.
"Teaching will not make me rich, is that important. What is more interesting than a smoking, swearing and copulating 15-year-old."
In another entry dated May 6 1984, when he was teaching at Altrincham Grammar School, the keen astronomer said: "At night a group of the 4th years round to use the telescope. Later joined by some of the 6th years and (name blanked out).
"A very clear night. The 4th decided to stay the night. As usual I had quite a bit to drink and as usual I tried. I must be mad."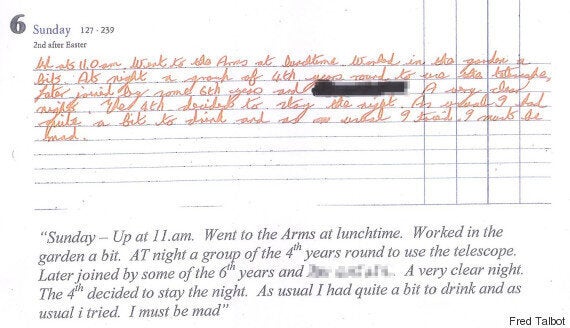 On New Year's Eve 1984, after he had resigned in disgrace from Altrincham Grammar School after admitting making an indecent proposal to two 15-year-old pupils, he wrote: "This has been a very strange year with many sad events.
"I have also had my highs but on the whole it has been a year of great change. Back in May I was at my lowest but I have survived. I can't hope ever to forget 84 but maybe I can learn from it."
In an entry on April 10 that year he appears to pin his hopes of turning his life around on his weatherman interview.
He wrote: "I have made many mistakes in my life but I now need a break and the weather job will certainly offer me the chance."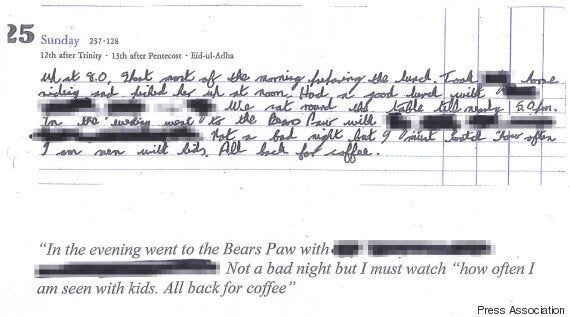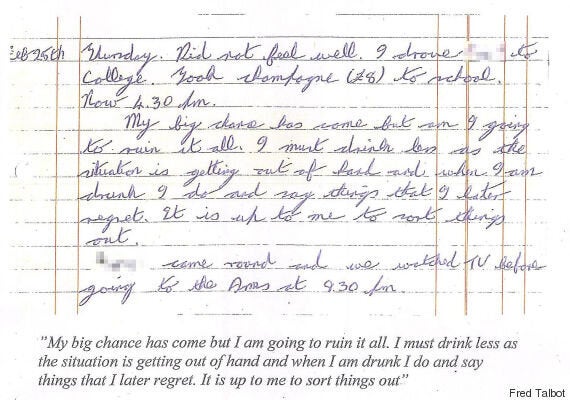 After his arrest, Talbot sat with his arms folded and repeatedly said "no comment" during his police interview.
He spoke up when he was asked about the asterisks, claiming the symbol denoted each time he had a panic attack.
Talbot told the jury he did not tell the truth to the police about the diary entries because he was "embarrassed" and did not want to "lay bare" his sexual history.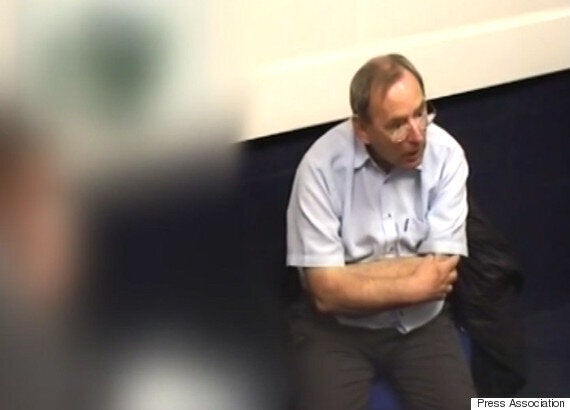 Talbot during his police interview
In his police interview, footage of which has been released by Greater Manchester Police (GMP), he said: "I used to have panic attacks when I was a kid, still have them occasionally, and somebody said you should note when it occurs in case it's caused by something you eat.
"So, I don't do it now really...I still get panic attacks I assure you...erm, anyway. So what I did was I used to write down if it happened...not write, I used to put a little star if I had a panic attack that day.
"And in the end I couldn't find any correlation. Somebody said cheese brings it on but it didn't."
The police interviewer later said to him: "I think those asterisks don't mean panic attacks at all. I think those asterisks means you...every time you've had sex."
Talbot had a shocked expression on his face when this was put to him, and he shook his head, and said: "No comment."
The police interviewer replied: "Anything to say about that?"
"No comment," Talbot repeated.
The interviewer then reiterated that he thought the asterisks indicated when Talbot had had sex with somebody, and Talbot again said: "No comment."
Asked if the writing in the diary was his handwriting he said "no comment", but shortly afterwards, he added: "Oh God, my writing's dreadful."
In the footage released by GMP, Talbot answered "no comment" to 12 questions one after the other, before he was asked about the asterisks.
The questions were about school trips, when he left the school and how he got into television.
Popular in the Community