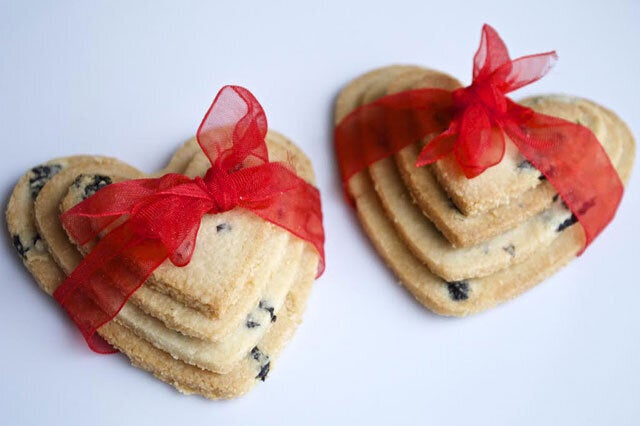 You will certainly win some hearts this Valentine's Day with this delicious recipe. The biscuits are easy to make but look seriously impressive - win win!
100g coconut oil (or butter if you prefer and happy to include dairy)
1. Preheat oven to 180°C, 160°C fan, Gas Mark 6, then combine the ground almonds and sour cherries in a large bowl.
2. Gently melt the coconut oil over a low heat in a pan. Remove from the heat and add the maple syrup and vanilla extract, stirring together. Then pour this liquid over the ground almonds and stir thoroughly to form a soft dough.
3. Divide the dough into two balls. Place each ball onto a sheet of parchment paper, press down, then place a second piece of parchment over the top. Roll the dough out between the sheets of parchment to about 5mm thickness. Place onto a flat baking tray, then pop into the freezer for 10 minutes to firm up. (N.B. The parchment paper prevents the dough sticking to the rolling pin and makes this super easy. The freezer makes the dough firmer and easier to cut. Don't miss these steps!)
4. Remove from the freezer and use heart shaped cutters to cut out biscuits. Use a spatula to carefully lift the biscuits onto another lined baking sheet. Bake for 5-7 minutes until golden. Allow to cool for a couple of minutes on the tray, then transfer to a cooling rack.
5. Roll up the leftover dough and repeat the process, rolling out between sheets of parchment and freezing for 10 minutes before cutting out. Repeat until all the dough is used up.
The dough can be frozen in a ball in a freezer bag, defrosted in a couple of hours and rolled out. Or the baked biscuits can be frozen in a tub, and defrosted in less than an hour.
If dairy isn't a problem butter can be used instead. If nuts are a problem you can replace the ground almonds with plain flour or gluten free flour. As flour is drier than almonds you may need a little extra oil to bring the dough together.