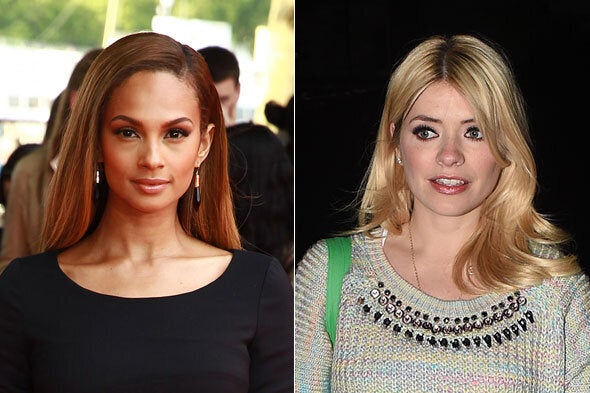 Every day, 17 babies are stillborn in the UK, and Holly and Alesha are collaborating with the charity Count the Kicks to try to reduce this number by raising awareness of the warning signs pregnant women can look out for.
"Having recently given birth myself, this campaign really resonates with me," said Holly, who has three children: Harry, five, Belle, three, and one-month-old Chester.
"The sad fact is that a third of stillborn babies are perfectly formed and born at gestation, when they could safely be delivered. That is a frightening statistic and that is why I fully support the work that Count the Kicks are doing in educating mums-to-be about being aware of their baby's movements."
Alesha Dixon, who is mum to one-year-old Azura Sienna, added:
"I'm a mum myself so can really empathise with what women who go through the tragedy of stillbirth must feel.
"Only around 10 per cent of stillbirths are caused by a fatal congenital abnormality, meaning there is a potential to save up to 90 per cent of stillborn babies.
i
I'm a firm believer that mums should always trust their instincts – if you notice a change in your baby's movements, seek advice quickly from a healthcare professional.
i
Count the Kicks aims to empower mums-to-be with the knowledge and confidence throughout their pregnancy to help prevent stillbirth and neonatal death.
Holly and Alesha became aware of Count the Kicks when the charity's CEO, Elizabeth Hutton, applied for the charity's founder, Sophia Wyatt, to appear on ITV's Surprise Surprise - which is presented by Holly.
"We filmed the show in August, when Holly was nine months pregnant," Elizabeth told Parentdish.
"When we first went on the stage, Sophia said to Holly: 'I can't believe they've asked you to do a story about stillbirth when you're nine months pregnant.'
"And Holly said that she couldn't not be involved in the campaign because before she'd heard about Count the Kicks she hadn't been aware of how important her baby's movements were."
Holly previously said that she had to fight back the tears when she first heard about Sophia's campaign.
"I was in bits!" Holly confessed. "Not crying was my biggest challenge because being pregnant my emotions were all over the place."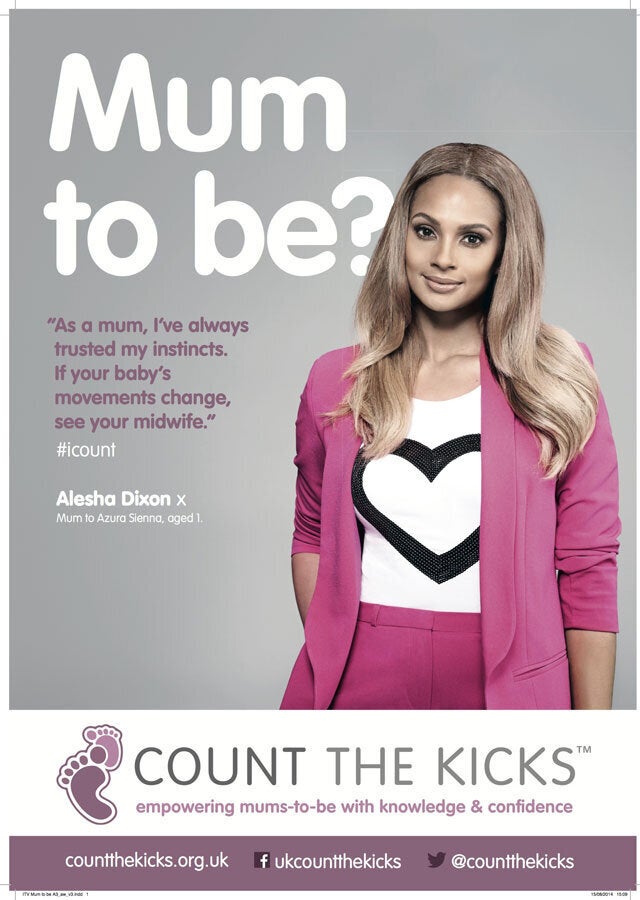 Elizabeth added that Alesha was keen to be involved because while she was pregnant she had experienced a change in Azura Sienna's movements but hadn't known what to do.
Like Parentdish on Facebook
"Alesha said she'd been worried about reduced movement but she didn't know whether it was normal or if she should call the doctor," said Elizabeth. "So she understood the worry that pregnant women face when they do notice a change in movement.
i
Too often mums are reluctant to bother midwives, but we go to midwives' conferences all the time, and they always say that they would rather see the same mum a hundred times and everything be fine, than have to tell her once that there is a problem with her baby.
i
"Sophia and I are so grateful that Holly and Alesha have kindly lent their support to this poster campaign, to help get our message out to mums-to-be across the UK.
"Many stillbirths could easily be avoided and the aim of this campaign is to cut the number that occur in the UK by at least a third, by making mums-to-be aware of the simple steps they can take to monitor their baby's movements during pregnancy.
"Our advice is if you become aware of any changes in your baby's movement pattern then you should quickly seek the advice of a healthcare professional.
"Do not rely on internet forums or well meaning friends and family, as there are many old wives tales doing the rounds which simply aren't true - such as that the baby moves less because it's running out of room."
Elizabeth is speaking from experience, in 2010 she lost a baby half way through her pregnancy.
"In a million years I never could have imagined how awful losing a baby was until I'd gone through it myself," she says. "That was when I decided to get involved with Count the Kicks, as I didn't want any woman to have to go through what I had gone through if there was a chance their baby could be saved.
"Our aim is to empower mums and make them feel positive about their pregnancy. If you're aware of your baby's movements and report any changes, then you're more likely to have a healthy delivery."