Jamie Dornan could be forgiven for keeping quiet on the subject of 'Fifty Shades of Grey'. With so much hype around the film in general, and his enigmatic character Christian Grey in particular, every word he utters has been jumped on dissected, with some critics of the film saying it advocates sexual abuse, and others complaining it doesn't reflect the world of submission and dominance.
However, when he sat down with HuffPost UK last week for his very, very last interview for the film, he put up a passionate defence of the world that many cinema-goers will be witnessing for the first time.
"The thing about it is, it's very legit," he exclaims, admitting that he knew nothing about the world of BDSM before he had to do his research for the film, and ended up in someone else's red room – "an interesting Tuesday night" he remembers.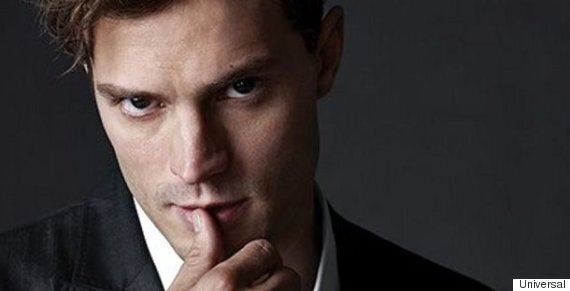 Jamie Dornan reveals he has far more empathy for dominants and submissives now he's researched the subject
"My whole thing about that world is that no one's dragging you into it, it's not prostitution, there's no pimps involved," he goes on.
"There are as many men as women who are submissives. They've chosen it, they want it that's what they've asked for, that's what they're into, and we can't bemoan them for being into that."
Beautiful word that, bemoan. He's still pondering…
"Some people like that, and it's often very powerful people, and it's often people like Christian Grey who are submissives actually. He was a submissive in the story for a long time. So, it's people who exert power all day at work, and work finishes and they want to release themselves of all power, and I understand that."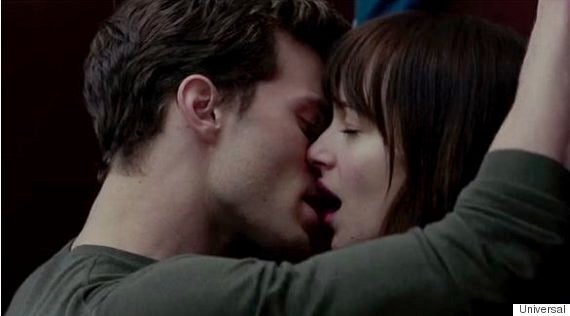 'Fifty Shades of Grey' tells the story of Christian Grey's seduction of Anastasia Steele
Jamie's frowning now, removing his baseball cap and ruffling his hair in concentration.
"I'm having to defend it a lot," he looks sheepish suddenly, about having such a strong opinion of something he's so new to. "I'm not into it, I play a character who's into it, it wouldn't do it for me either way, but I can understand people who are into it.
"The whole movement of S&M is built around trust, and if it goes beyond, if a man or woman is too close to it becoming pain rather than pleasure, there's a word, that's what safe words are for, and then if it goes too far, there's a word and it stops.
"And they're really serious about that, there's no sense of saying the safe word but keeping going, the whole thing is built around that. I'm so defensive of it, because no one's doing it against their will, it's all consensual, that's all I can say about it."
What about all those people set on judgement of the film, before it even came out? He shrugs.
"Of course, but fucking hell, people are… idiots."
"It wouldn't do it for me either way, but I can understand people who are into it," says Jamie
And there you have it. Meanwhile, of his own role, following that of serial killer Paul Spector in BBC drama 'The Fall', he says he's not that worried about typecasting… yet.
"I consider Spector and Christian Grey to be very different characters and hopefully I haven't given the same performance twice," he ruminates.
"I get why people make comparisons, but for me they're both very intriguing, complicated characters who are tortured, but for very different reasons.
"Of course, but playing sexual sadists for life? Probably not, I don't want to, but I'm very happy exploring characters who are hard to get inside the mind of, and to understand, and that will always appeal to me, but I also think I have something a little bit lighter in there, and I would like to play somebody at some stage who's not fucked up."
'Fifty Shades of Grey' is in UK cinemas now. Watch the trailer below...
Related