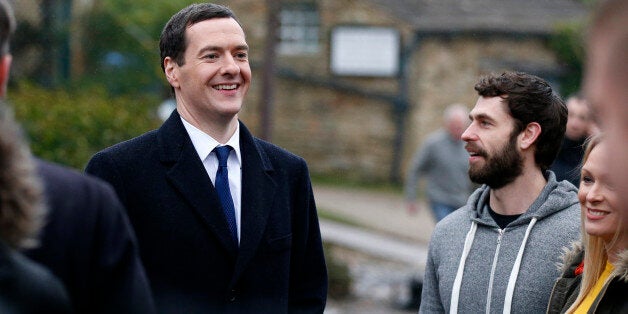 George Osborne has hailed a "milestone" for the UK economy as the rise in the cost of living has slowed to its lowest level on record, inflation figures for January published today show.
The Consumer Price Index (CPI) measure of inflation fell to its equal lowest ever level of 0.5% in December and dropped further to 0.3% at the start of this year, the Office for National Statistics has confirmed.
"Today we see the slowest CPI inflation ever - a milestone for the British economy," he said in a statement. "It's great news for families, whose budgets will stretch even further. It shows that those who went around predicting a cost of living crisis were plain wrong. And it demonstrates the clear choice between a long-term economic plan that's delivering stability and rising living standards, and the chaos of the alternatives.
"Although the low inflation, as the Bank of England confirmed last week, driven by lower food and energy prices rather than damaging deflation, we will remain vigilant to all risks, particularly when the global economic situation is so uncertain".
Bank of England forecasts suggest it will turn negative over the next few months. CPI has been driven lower by sliding oil prices and the supermarket price war and could be lowered further in coming months with the impact of energy tariff cuts.
Howard Archer, chief UK and European economist at IHS Global Insight, said: "The Government will be hoping that very low inflation and improving earnings growth improves its popularity in the run-up to May's general election."
The current period of low inflation is seen as positive as it boosts household spending power, which also looks set to be helped by improving wage growth - cheering voters ahead of the general election and bolstering the wider economy.
But policy makers want to avoid plunging into a sustained spiral of falling prices, putting consumers off purchases and deterring businesses from investment.
Bank of England governor Mark Carney said last week that interest rates could be cut further from 0.5% should low inflation persist, though the Bank's projections over the next couple of years suggest it will start climbing by the end of 2015.
In another sign of the cost of living starting to ease, the Office for National Statistics revealed that UK house prices were starting to slow in their rate of increase, going up by 9.8% in year to December 2014, down from 9.9% in year to November.
The cooling has been felt in terms of the cost of living, with the Retail Prices Index measure of inflation, which factors in housing costs, falling from 1.6% to 1%.
Popular in the Community