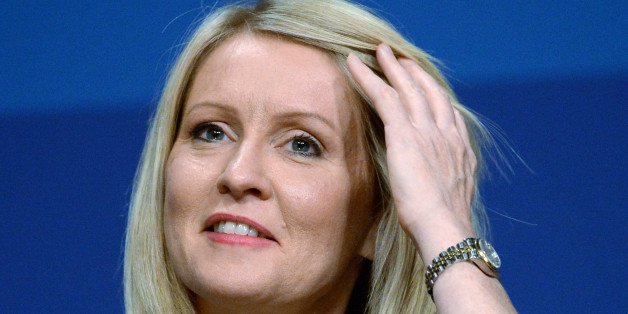 Stefan Rousseau/PA Wire
The Conservative minister for jobs Esther McVey has told girls they should be climbing trees and making dens if they want to get good jobs.
McVey claimed childhood gender roles have an impact on the ability of women to achieve promotions and job offers in later life.

In an interview with the Daily Mail, McVey attributed gender imbalance in the workplace to boys' tendency to be "pushing the boundaries" of self-fulfillment at a young age, in contrast to girls' usual reluctance to push themselves because they are "looking for acceptance".
"I think girls, whether it's the way they're brought up, they sit quietly beside mum and dad and speak when they're spoken to," she said. "And boys are allowed to run around outside and climb trees and make dens, and that actually does have an impact later on in life where girls are frequently looking for acceptance by others, whereas boys are much more naturally pushing the boundaries."
Some members of the public have been less than supportive of her views:
Esther McVey knows all about climbing trees. As a child she climbed the stupid tree and hit every branch on the way down.

— chinnyhill10 (@chinnyhill10) February 18, 2015
OMG Esther McVey's patronising tones spouting statistics and percentages on Radio Humberside @bbcburnsy

— Graham in Grimsby (@GrahamsPlaice) February 18, 2015
Others, however, have provided real-life evidence of her claims:
@EstherMcVeyMP I climbed trees when I was a child #amazing and I now have the best job ever!! Girls go climb its fab

— Sonia Wilson (@SoniaWilson17) February 18, 2015
McVey's comments come in conjunction with the imminent launch of her #notjustforboys campaign, which aims to increase the employment of women in male-dominated industries such as construction science, IT services and engineering - industries that will reportedly swell by 12m jobs in the next decade.
As well as referencing childhood development, McVey, who has been the minister of state for employment since October 2013, proposed girls needed to be encouraged to choose "the right subjects at GCSE and A-Level so [they] don't limit [their] choices later in life, because these are the fast-growing areas, the ones with the greatest opportunities and the ones paying the most money".
McVey placed special emphasis on strengthening female representation in the aforementioned, quasi-patriarchal technology industries.
"Among engineering professionals only 7%of women are working in that area," McVey concluded. "Yes it has gone up since 2011, but that's 93% of women who might think 'I would have done that'.
"So many people like to use the latest phones or programmes, we are saying don't just be the consumer of technology, be the creator and think of the opportunities that will open up for you."