Selena Gomez has caused a stir online with her latest magazine photo-shoot.
SEE MORE:
The former-Disney-princess-turned-'Spring Breaker' appears on the cover of the new issue of V magazine, posing topless in a pair of denim shorts.
However, it's not the near-nudity that has caused outrage, but the fact that some people think the photos make Selena look younger than her 22 years.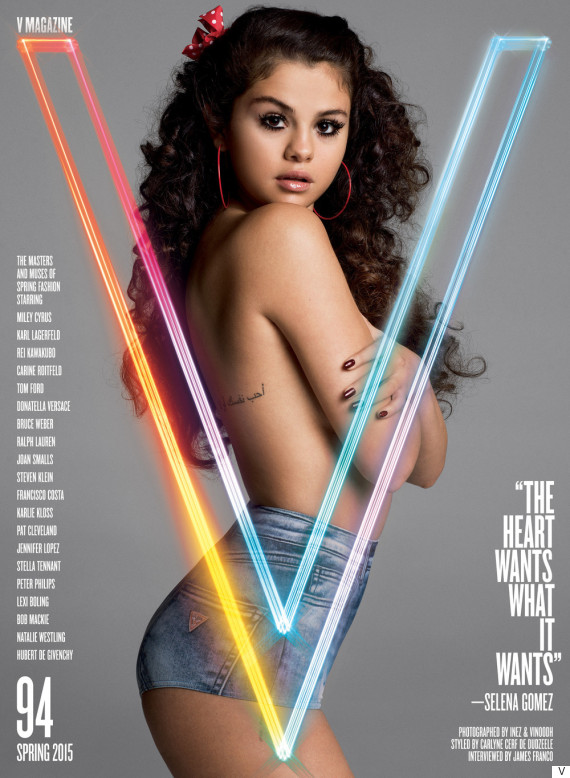 Selena's controversial magazine cover
In the topless photo, Selena looks out to the camera while sporting some tight curls, some 1980s-inspired hoop earrings and a Minnie Mouse-esque hair bow.
Several Twitter users have shared their distaste for the pictures online, with many saying the new photo-shoot makes them "uncomfortable".
why are they making Selena Gomez look like one of those pageant babies in V mag, but with boobs/topless?

that stuff makes me uncomfortable

— Dalli (@Dallianna) February 17, 2015
It kinda weirds me out that Selena Gomez posed for v-mag & her makeup makes her look like a child pageant contestant.. All I see is 12yr old

— tay armstrong (@tayaudrianna) February 17, 2015
Selena Gomez on the cover of V Magazine looks like one of these child pageant queens, making me feel extremelly uncomfortable.

— Fashion Geek (@mary_in_fashion) February 17, 2015
Selena Gomez for V, did you mean "toddlers dressed as celebs at the Grammys"

— pineApplehead (@oneofthosefaces) February 17, 2015
Those pictures of Selena Gomez make me very uncomfortable bc she looks like a four year old and she's not wearing a shirt

— Lindsey Del Pretee. (@lindseydelprete) February 17, 2015
Dear @vmagazine - Good work making @selenagomez look like an underage child for UR cover. Not disturbing at all. #TheHeartWantsWhatItWants

— The Dishmaster (@TheDishmaster) February 17, 2015
Meanwhile, photos inside the magazine see the 'Come & Get It' singer wearing a cow-print cowgirl hat, a gingham bikini and several flower hair clips, a look which has also been criticised for infantilising her.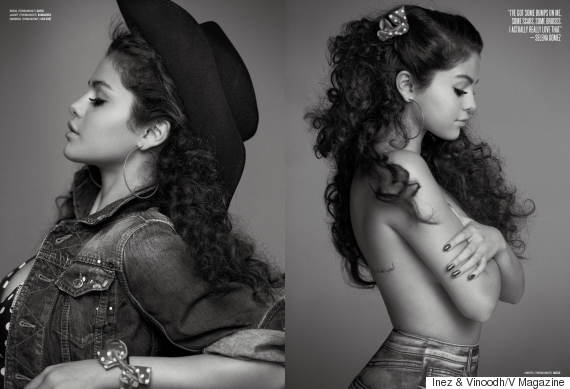 Selena Gomez for V magazine
The new issue also features an interview with Selena by her former co-star, James Franco, where she discusses her past relationships and opens up about having depression.
Selena isn't the only former child star to be going topless this week, though, after her ex-boyfriend Justin Bieber whipped his shirt off to promote his forthcoming comedy roast, in honour of his 21st birthday next month.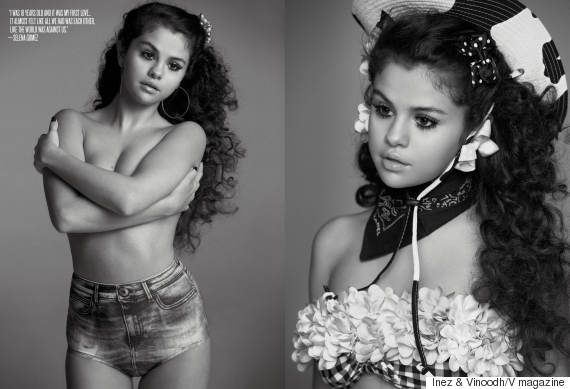 Selena poses in a cowboy hat and not much else
Justin is pelted with eggs in the new slow-motion clip, which alludes to an incident last year when he was charged for egging his neighbour's home.
The latest issue of V magazine, featuring Selena on the cover, hits newsstands on 26 February.
LIKE US ON FACEBOOK | FOLLOW US ON TWITTER