Kathy Beale, played by Gillian Taylforth, made a surprise 'EastEnders' return on Thursday night, causing everyone to, well, start screaming at their TVs.
MORE 'EASTENDERS':
Thousands of fans took to Twitter when Ian Beale's mum appeared in the show during a scene with Phil Mitchell, and the show have now confirmed that Kathy's back for good.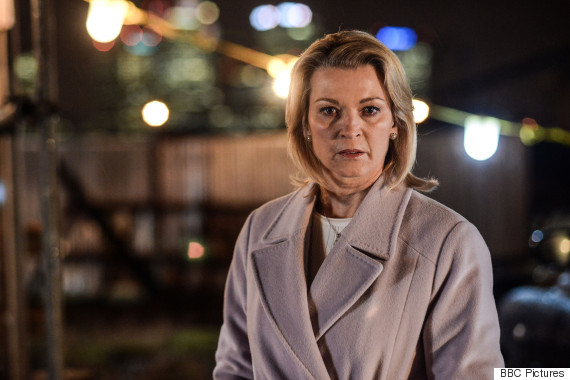 No, you didn't imagine it, she's back!
Ian's mum - and Phil's ex - was last seen in 2000, before returning to South Africa, where a car accident left fans presuming she was dead.
And we thought the murder revelation was going to be a shocker. Wow.
A statement released by Gillian explains: "When Dominic [Treadwell-Collins, executive producer] approached me with his plan, I was so shocked I got into my car and burst into tears!
"Kathy has always been so close to my heart and it's absolutely wonderful to be returning to the show and reprising the role."
Naturally, fans took to Twitter to discuss the surprise, and it's fair to say that everyone was more than a little stunned…
KATHY BEALE!!!!

— Rylan Ross Clark (@Rylan) February 19, 2015
i can't cope

— Grace Dent (@gracedent) February 19, 2015
kathy. beale.

— Grace Dent (@gracedent) February 19, 2015
What the ....? Kathy? #EastEnders #KathyBeale #WhoKilledLucy #headblagged

— SarahL (@Yorkshiregirl3) February 19, 2015
And Kathy Beale is back....from the dead!!! (Well, she obviously didn't die) What a night! AND THERE IS STILL MORE TO COME IN 20 MINUTES.

— Mars (@DorkTimeRush) February 19, 2015
Jaw dropping reappearance of KathyBeale in #EELive tonight would never of guessed that was going to happen in a million years ! @dominictc

— Alison Jane Law (@MsAllyLaw) February 19, 2015
Kathy Beale returning has just made this the best episode of #eelive ever.

— SHANE REACTION (@MrShaneReaction) February 19, 2015
So Kathy Beale has returned to EastEnders..... how the HELL did they pull this one off???????

— This era's truly BAD (@Michael_Sku_Wif) February 19, 2015
We need a lay down.
READ MORE:
LIKE US ON FACEBOOK | FOLLOW US ON TWITTER