Fashion designer Vivienne Westwood is injecting some much needed glamour into politics after she announced she will be touring universities to promote the Green Party to students.
The icon, who is also known for her political activism, will be visiting Liverpool, Norwich, Brighton and Sheffield, among others, ahead of this year's general election.
Read More:
"The Green Party are against austerity, against fracking and pro-community," she said. "Starting from this platform we could build a true economy based on real human values.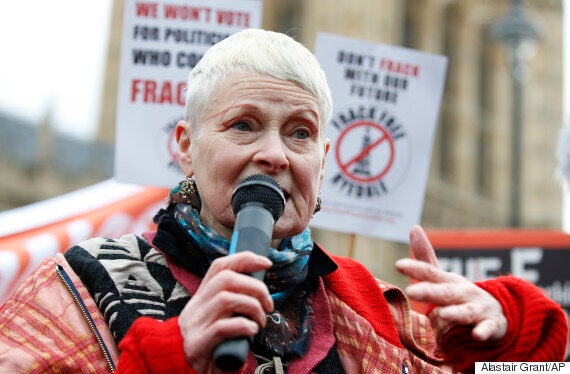 Vivienne Westwood at an anti-fracking demonstration
"I am investing in the Green Party because I believe it is in the best interests of our country and our economy. I hope that by example other individuals and businesses will follow suit. If we get behind this we can make a real difference and the time is now."

Amelia Womack, deputy leader of the party, will be accompanying Westwood, who previously donated £300,000 to the party, on the tour and speaking alongside her.
Westwood wrote a pamphlet called End Capitalism, which explained one of her main reasons for voting for the Greens was because of its "pro-community" stance.
Young Greens co-chair Clifford Fleming said the party was "incredibly excited" to have the fashionista's support.
"This tour is going to be an amazing opportunity to reach out to young voters. Young people in this country are growing increasingly disillusioned with mainstream politics - and it's so important that they help to create the change we all want to see, by registering to vote and making their mark on the ballot in May."
A YouGov poll at the end of January showed the party was polling at 29% and tied for first place with Labour for the youth vote - ahead of the Conservatives, Lib Dems and UKIP. As of 15 January, the party has more members than UKIP.
Related