After The Daily Telegraph wrote a controversial article that used the deaths of two staff members at News UK, the publisher of The Times and The Sun, to attack the Murdoch-owned paper, the reaction was brutal and swift:
Disgusting low from the Telegraph: use the death of News UK employees as part of its HSBC panic http://t.co/Hs1FZtb59P

— Stig Abell (@StigAbell) February 20, 2015
Telegraph's destruction of its brand astounding for speed, effectiveness. Will Boris take a stand & resign? He can afford it.

— Jenni Russell (@jennirsl) February 20, 2015
They've stuck it on P1. Uncontainable rage from friends at the Telegraph tonight. Dam is going to break. pic.twitter.com/GFY87tKTnb

— Harry Cole (@MrHarryCole) February 20, 2015
@Telegraph Just FYI, using suicide as a point scoring tool in your media spat is usually thought of as 'wrong' and 'very evil'.

— Hayden Donnell (@HaydenDonnell) February 20, 2015
The article, which was published Friday evening on the Telegraph's website and made page one in Saturday's print edition, claimed News UK had launched an "internal investigation after two members of its commercial department took their own lives within weeks of one another amid fears that staff are being put under unreasonable pressure to hit targets."
One former employee of the Telegraph told HuffPost they were "horrified" by the story, and the swirl of accusations. "It's been just horrible to see, there are so many fantastic journalists who work there."
The move marked an escalation in a war sparked by criticism of the Telegraph by its former Chief Political Commentator Peter Oborne, who resigned earlier this week, accusing his former paymasters of failing to cover the HSBC scandal because of the bank's close ties with the newspaper's advertising department.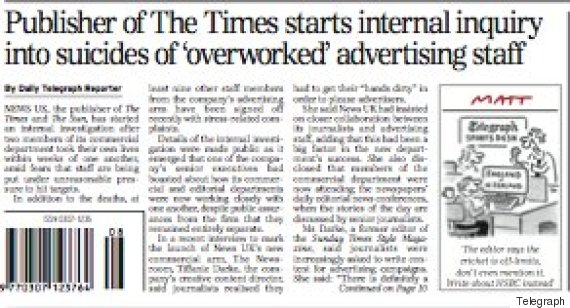 The story on the front of today's Telegraph
And in what was probably a Fleet Street Twitter first, there was even a direct appeal from one media boss to another, as the usually mild mannered editor in chief of the Guardian, Alan Rushbridger, tweeted angrily at Murdoch MacLennan, chief executive of the Telegraph Media Group:
.@MMacLennanTMG come on, Murdoch. If you guys can take down HSBC stories you can take down this, too http://t.co/1joaFOvF1a

— alan rusbridger (@arusbridger) February 21, 2015
But no one was expecting this sassy gem from Fleet Street's much maligned tabloid the Sunday Sport, the same paper that brought us the world exclusive 'World War 2 Bomber Found On Moon':
Dear @Telegraph. Please get out of the gutter. That's our patch.

— Sunday Sport (@thesundaysport) February 21, 2015
Creating possibly another Fleet Street first:
No other nations's press would have made spot-on/self-deprecating quote that @thesundaysport-made re: #thetelegraph.

Not US-not anybody..

— Bonnie Greer (@Bonn1eGreer) February 21, 2015
Dear Daily Telegraph: when @thesundaysport can take the moral high ground over your ass, YOU. ARE. FUCKED.

— AJ McKenna (@AnathemaJane) February 21, 2015
Wow, the Telegraph really is on the ropes "@thesundaysport: Dear @Telegraph. Please get out of the gutter. That's our patch."

— Jimmy (@Jimbobarelli) February 21, 2015
F**king hell. *Ouch* "@thesundaysport: Dear @Telegraph. Please get out of the gutter. That's our patch."

— Mj (@here_comes_B) February 21, 2015
Shit just got real. RT @thesundaysport: Dear @Telegraph. Please get out of the gutter. That's our patch.

— stacy-marie ishmael (@s_m_i) February 21, 2015
"@thesundaysport: Dear @Telegraph. Please get out of the gutter. That's our patch."

DT hits depths - Sunday Sport appalled by their ethics!

— Pete Garrard (@LiverpoolPeteG) February 21, 2015
Daily Telegraph Savaged For Publishing Anonymous Article On Deaths Of Two News UK Staff