The starting gun has fired in now what's likely to be one of the most fiercest fights in the 2015 general election, after the Labour Party chose a Londoner to run against George Galloway to try and regain the outspoken 60-year-old's Bradford West seat.
British-Somali mother-of-two Amina Ali was chosen from an all-woman shortlist of three today in a move which will hugely annoy some party members who wanted to see a local candidate.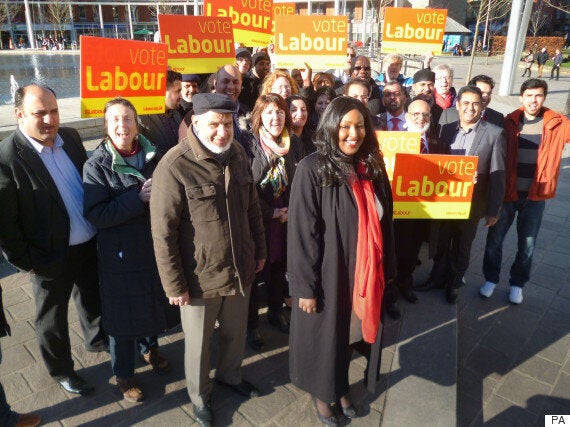 Amina Ali was chosen from an all-woman shortlist of three today
But Labour said Ms Ali, who is a councillor in Tower Hamlets, was the "overwhelming choice" of members at a hustings held at the Bradford Hotel.
If elected she will be the first ever MP of Somali heritage.
For Ms Ali and Mr Galloway though, it will be the recommencement of battle (albeit indirectly) that began when Mr Galloway defeated former Labour MP Oona King in the east London seat of Bethnal Green and Bow in 2005, in what was described as a 'bloodbath' campaign.
Mr Galloway was then defeated by Labour in the 2010 election, with Ms Ali a member of Tower Hamlets council which still forms part of the Scot's former commons seat.
Ms Ali worked as a researcher and journalist for the BBC before embarking on her current career as a legal advisor.
She comes with heavyweight support, with Labour veteran Diane Abbott among many sitting MPs tweeting support.
But within just hours of Ms Ali's selection, the battle already appeared to be getting personal, with Ms Ali's supporters calling out Mr Galloway:
And the fiercely anti-Iraq war Scot was clearly keen to emphasis past battles, claiming "New Labour wanted to re-fight Oona King's Iraq War in Bradford West."
Mr Galloway won Bradford West in a by-election for his Respect Party in 2012 when a huge swing from Labour left him with a majority of more than 10,000.
Ms Ali said: "I'm delighted to have been given the backing of Bradford West members and will give this campaign everything I have.
"People in Bradford West want change - they have been badly let down by a Tory-led government hitting Bradford disproportionately hard and an absentee MP in George Galloway.
"He promised the earth in 2012 and as the by-election result showed people put their faith in him, but none of what he promised has materialised, he has failed to work hard for local people and even admitted he prefers election campaigns to actually doing the job of representing the people of Bradford West.
"If Bradford West people elect me they will get an MP who will work tirelessly for them, and only for them. I will be a strong voice in Westminster, and I will be visible and active back here in Bradford too."
Mr Galloway added Saturday evening: "In the light of today's bizarre decision I call on #Bradford Labour members to join us either publicly or privately. We are the real Labour."
Mr Galloway's election battle with Baroness King, which was largely fought over her support for the 2003 invasion of Iraq, was considered one of the most bruising from the 2005 campaign.