Coastal communities are bracing themselves for floods with 'super moon' tides set to bring large waves to parts of the country this weekend.
Gusts of 50mph alongside higher than average spring tides could mean stormy weather, and travel disruption, across many of the UK's seaside towns and villages, the Environment Agency said.
Alerts have been issued for the north west coast right through to Monday, while the north east is likely to see flooding in low-lying land today, it said.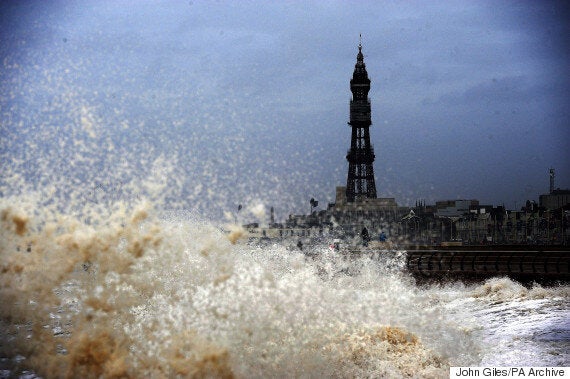 Massive waves have been forecast, like this one in Blackpool earlier this year
The east coast, and parts of the south coast as well as Devon, Cornwall and the Bristol Channel may see some disruption from today through to Monday, it added.
There will be little let-up for those in the west of the country as strong winds tomorrow are expected to bring a continued risk of large waves into Monday.
There has been a lot of media coverage about the potential impact of so-called 'super tides'.

Tides are governed by the gravitational pull of the moon and, to a lesser extent, the sun. Because the sun and moon go through different alignment, this affects the size of the tides.

When the gravitational pull of the sun and moon combine, we see larger than average tides – known as spring tides. When the gravitational pulls offset each other, we get smaller tides known as neap tides. We see two periods of spring and neap tides roughly every month.

However there is a longer cycle at work too, associated with the gravitational pull of the planets in the solar system. This means we can see additional, albeit relatively small, increases and decreases in the size of spring and neap tides over long periods of time.

We are currently at the height of those increases, so the astronomical tide is at an 18-year peak – although this is only a few centimetres bigger than a more average spring tide.

It's important to realise that just because we are expecting big astronomical tides over the next few days, these won't cause the highest sea levels we've seen – even in the last few years. That's because the weather can have a much bigger impact on sea level than the 18-year tidal cycle.

Strong winds can pile up water on coastlines, and low pressure systems can also cause a localised rise in sea level. Typically the difference in water level caused by the weather can be between 20 and 30cm, but it can be much bigger.
Jonathan Day, flood risk manager at the Environment Agency, said: "We are monitoring the situation closely with the Met Office and will issue flood alerts and warnings as required.
"It's possible we could see some large waves and spray and urge people to take care near coastal paths and promenades and not to drive through flood water."
Meanwhile a wintry blast brought a covering of snow to many parts of the UK this morning but forecasters have warned more substantial falls are on their way for northern parts, including blizzards.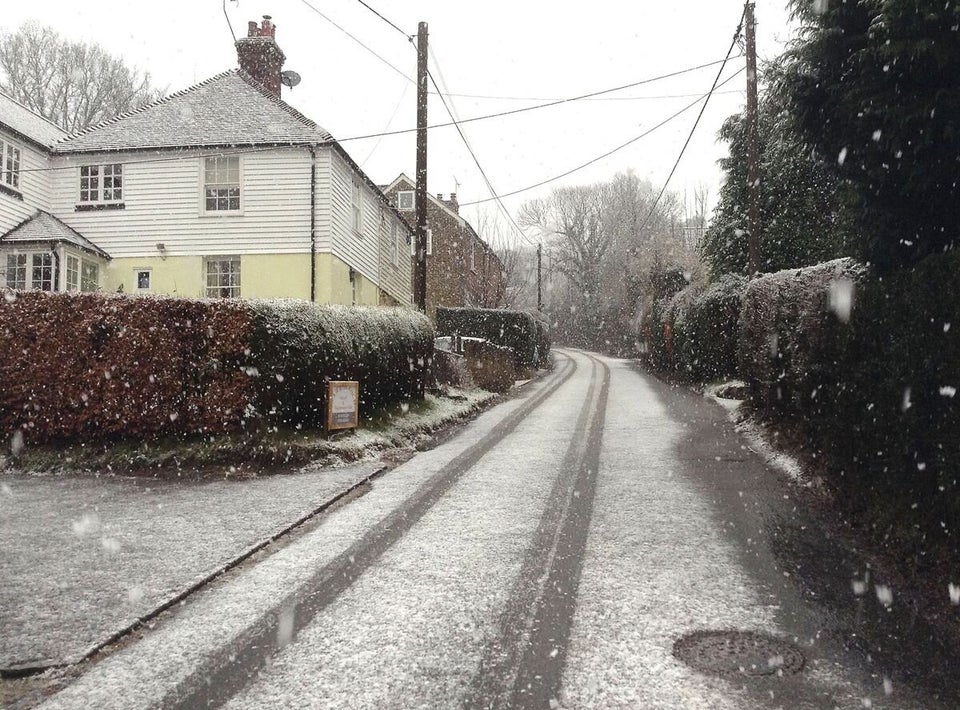 UK Super Moon Weather
Rain showers turned to snow in parts of south-east England - including areas of East Sussex and Kent - as well as in places in the North West, the West Midlands and Scotland.
Met Office forecasters said it had been difficult to predict where the rain would turn into snow this morning, especially as there was also hail among the precipitation mix in many locations.
And they said most of the accumulations were likely to disappear during the day as the temperatures rise to a maximum of around 7C (44.6F) in some places.
But Kirk Waite, from the Met Office, warned of freezing temperatures tonight followed by snow tomorrow morning on higher ground in Scotland and along the Pennines.
Mr Waite predicted strong winds expected across much of the country could also bring blizzard conditions to parts of the Highlands.
He said temperatures tonight could fall as low as -5C (41F) in some areas, including Yorkshire and the Highlands.
Snow and ice warnings have been issued for northern and north-western areas of the UK, with potential blizzard conditions in-store over higher ground including the northern Pennines and Cumbria.
Up to 2ins of snow could fall in some parts which, combined with gusts of more than 50mph, could create localised blizzard conditions, Simon Partridge of the Met Office said.
"The whole of the country will experience strong winds and severe gales over the course of tomorrow, meaning it will be a wet and windy day for many - and a snowy and windy day for northern parts," said Mr Partridge.
Strong winds and blustery showers are forecast for the early part of next week, with a risk of hail and thunder.
"Winter is not over just yet," Mr Partridge added.
People are advised to check the Environment Agency website at gov.uk and their @EnvAgency Twitter feed for the latest updates.