The shocking footage shows Sergeant Kerry Lawrence's head being hit against the ground repeatedly by a handcuffed suspect in a burglary.
Craig Radbourne, 25, appears to be drunk and is agitated as he sits in the back of a police vehicle before lashing out.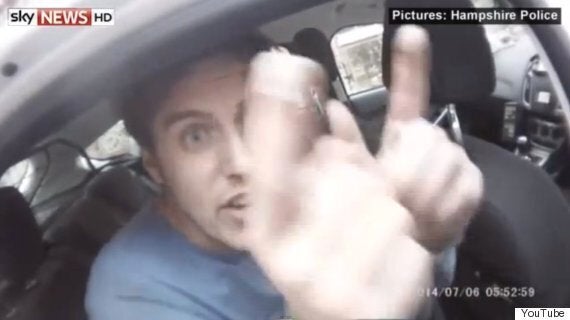 He says: "We need police, ambulance, everything. Your officer is down, she's on the floor."
Radbourne from Newport Pagnell, Buckinghamshire, pleaded guilty to a charge of assault causing actual bodily harm and was sentenced to three years in prison.
A Hampshire police spokeswoman said: "Radbourne was arrested by the officer on suspicion of being drunk and disorderly. He had been placed in handcuffs and into a police car before additional units arrived.
"However, before officers arrived, Radbourne managed to strike out at Sgt Lawrence, viciously attacking her and banging her head on the ground several times.
"He was subsequently re-arrested by other officers nearby and taken into police custody."
Chief Inspector Simon Dodds said: "This was a disgusting attack on a member of my team, who works tirelessly to serve her community."
Simon Hayes, police and crime commissioner for Hampshire, criticised the sentence as being lenient.
He said: "I am disappointed that Mr Radbourne has only been sentenced to three years in prison for the extremely violent assault against Sgt Kerry Lawrence. I would hope that he is made to serve the full sentence."