Amina Ali, Labour British-Somali candidate selected to take on George Galloway in the key seat of Bradford West, has resigned her candidacy after just 72 hours, fueling rumours of backroom deals and a feud between Labour head office and the local branch.
Ali, the chair and founder of Somali Friends of Labour, appeared to confirm the rumour herself on Twitter last night but later deleted her tweet. Several sources said Labour Party officials had attempted to convince Ali to reverse her decision Wednesday morning, but were unsuccessful.

The mother-of-two released a statement almost 12 hours later, confirming her resignation and claiming she had not realised how much disruption her selection would cause to her daughter's GCSE exams - a reason which senior local sources called "nonsense".
"It is an honour and privilege to have been selected by members of Bradford West as the Labour candidate for the General Election, In all the years I have been a member, being chosen to fight a seat for the Party I love has been my dream," she said.

"However, I am the mother of two children and despite my best efforts to make arrangements to bring them to Bradford for the next 70 days, particularly as one of them is doing her GCSEs, this would have caused massive disruption at a critical time. I would not be able to do justice to the members of Bradford West CLP and the people of Bradford.

"Bradford West needs a candidate who is going to live in Bradford and be involved in the campaign for every moment of every day and I am unable to fulfill this commitment despite a strong wish to support the Labour Party to victory. The decision taken now will enable a new candidate to be selected for Bradford West to win the seat back for Labour.

"I remain very proud that I was the first British somali woman ever selected to contest a target seat and I will continue to work within the Labour Party in the future and during the campaign. I am sure everyone will understand that I need to put my children first."
Her selection had not gone down well with some local Labour stalwarts. They are said to have had other preferred candidates for the seat with closer local links and Galloway himself suggested that Ali had been bullied out by other members:
"The Labour Party are making Bradford West look more like an 18th century rotten borough than a 21st century Parliamentary constituency, and it doesn't appear we're out of the woods yet," Conservative candidate for Bradford West George Grant told HuffPost.
"My heart goes out to Amina Ali, who in spite of citing family reasons as the official explanation for her departure appears to have been subjected to a good old-fashioned stitch-up with terrible consequences. I have less sympathy for those behind all this who appear to be trying to take the electorate for absolute fools."
One Bradford politician suggested Ali, a councillor from Tower Hamlets in east London, had been daunted by the very onerous task of taking on Galloway, as well as having lacked any material support of the local party. "I was there on the day of the hustings, and it was very pleasant and friendly, but when it was announced that she had won, she had a look of shock and horror on her face," councillor Mohammad Shabbir told HuffPost UK.
"I don't think she was expecting to win at all. Labour central office has got to come up here and sort out the mess now, to make sure they make it clear that nothing untoward will go on with any further selection, and it will done solely in the interests of the people of Bradford West, not for some self-interested cabal."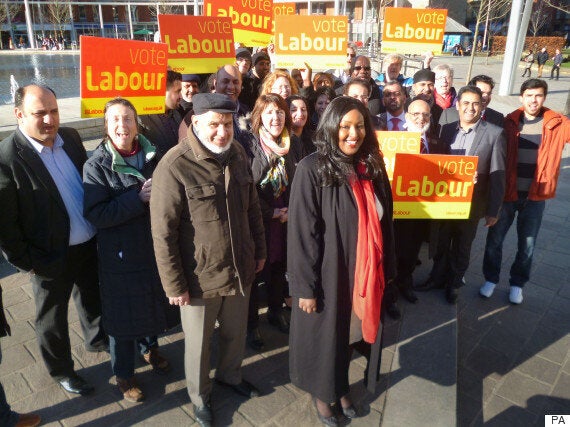 Amina Ali was chosen from an all-woman shortlist of three today
Another source close to the campaign described Ali as having been "done up like a turkey for Christmas" and that she may only have realised the extent of the alleged hostility towards her in the hours following her selection.
Several commentators pointed out that politics in Bradford has often been rumoured to be influenced by the so-called "biraderi" - a network of allegiances to various clans that have a strong influence in Pakistani communities.
Ali, with her Somali background, was ostensibly a candidate from well outside those networks. Local elders were said to have favoured councillor Shakeela Lal, who was not on the Labour shortlist.
One well-placed local source said that feathers had been ruffled by Labour's insistence on an all-woman shortlist, preventing Imran Hussein, the Labour candidate in 2012, to be allowed to go once more into the ring with Galloway. Several other potential candidates with a "power base" in various Bradford political factions had found themselves de-selected.
Some on social media said that Labour may have underestimated 'biraderi' influence in the constituency, and Ali herself had attempted to tackle the issue head-on during the hustings:
Ali was a landmark candidate for the party, and had she won, she would have been the first British-Somali to enter the House of Commons. She was chosen from an all-woman shortlist of three candidates on Saturday, reputedly the "overwhelming choice" of members at a hustings held at the Bradford Hotel.
For Ali and Galloway, it would have been the recommencement of battle (albeit indirectly) that began when Galloway defeated former Labour MP Oona King in the east London seat of Bethnal Green and Bow in 2005, in what was described as a 'bloodbath' campaign.
Galloway was then defeated by Labour in the 2010 election, with Ali a member of Tower Hamlets council which still forms part of the Scot's former commons seat.
Galloway won Bradford West in a by-election for his Respect Party in 2012 when a huge swing from Labour left him with a majority of more than 10,000.
Ali said at the time of her selection: "I'm delighted to have been given the backing of Bradford West members and will give this campaign everything I have.
"People in Bradford West want change - they have been badly let down by a Tory-led government hitting Bradford disproportionately hard and an absentee MP in George Galloway.
"He promised the earth in 2012 and as the by-election result showed people put their faith in him, but none of what he promised has materialised, he has failed to work hard for local people and even admitted he prefers election campaigns to actually doing the job of representing the people of Bradford West.
"If Bradford West people elect me they will get an MP who will work tirelessly for them, and only for them. I will be a strong voice in Westminster, and I will be visible and active back here in Bradford too."