Madonna suffered a massively embarrassing moment during her Brit Awards live performance on Wednesday night, taking a tumble down some steps right at the beginning of her routine.
MORE BRITS:
The singer took to the stage to sing her new track 'Living For Love' while wearing a long cape that stretched the length of the runway, however when it came to taking it off so she could start singing, it proved a bit too heavy for her, and accidentally dragged her to the floor.
While we were momentarily stunned - as was she, no doubt - Madonna quickly picked herself up, dusted herself off and carried on, in keeping with the empowering lyrics of the song, and managed to make it to the end of the song.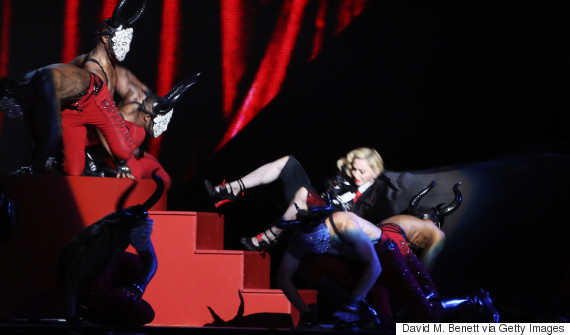 Madonna takes a tumble at the Brits
Now that is what you call a "the show must go on" moment.
The upshot of it was, at least for that brief second while she picked herself up off the floor, she was able to prove to everyone that she was singing live. Every cloud, and all that.
Within minutes of her epic fall, it was all anyone on Twitter could talk about, with '#shefellover', 'cape' and, curiously, Guy Ritchie all emerging as the top trending topics of the night.
It seriously was the moment everyone was talking about, and while some tried to see the funny side, others were more impressed at Madonna's ability to "pick up her crown, put it back on her head"...
Watching the performance for the 5th time. She's clearly in so much pain and shocked but she still SLAYS. Bitches, she's Madonna! #BRITs2015

— A* (@husseybyname) February 25, 2015
The only thing old and tired about Madonna is your jokes about her.

— T. Kyle (@tkylemac) February 25, 2015
I'M GONNA CARRY ON INDEED.

— Silly Old Daniel (@sillyolddaniel) February 25, 2015
#WhoPulledMadonnasCapepic.twitter.com/UutSzCQvIS

— 6 (@KrisDisick) February 25, 2015
Great performance @Madonna! You are a true professional and a legend. "Watched me Stumble...I'm gonna carry on!" #livingforlove

— ADAM LAMBERT (@adamlambert) February 25, 2015
It's unfair and inaccurate to say that Madonna "fell over". She was YANKED OFF HER FEET, for crying out loud.

— Steven Perkins (@stevenperkins) February 25, 2015
Madonna at her post-performance interview pic.twitter.com/sBq9GBaxjP

— Santi (@SantiCardona) February 25, 2015
This is going to be a VERY big night for ITV+1 #BRITAwards#madonna

— Richard Osman (@richardosman) February 25, 2015
@Madonna - I love you, you mad powerful thing you. Well done on carrying on! #TheBrits 🙌

— Kayleigh Dray (@KayDee28) February 25, 2015
I ain't laughing. She's my Queen. I'm gutted for her. True pro. @Madonna#BRITs2015

— Paul Culshaw (@PaulCulshaw1983) February 25, 2015
Has anyone checked the footage to see if Bobby Beale was on stage during Madonna's performance? #BRITAwards

— Matt (@iMattG5) February 25, 2015
Seriously though what a fucking pro

— CASS (@ceebrie) February 25, 2015
Luckily, Madonna has assured fans she's alright despite hitting the stage with some force, posting on - where else? - her Instagram page: "Nothing can stop me and love really lifted me up! Thank you for your good wishes! I'm fine!"
Madonna's 'Living For Love' performance marks the first time the Queen of Pop has performed at the Brit Awards in 20 years, last taking to the stage to sing 'Bedtime Story' in 1995.
However, after that unfortunate mishap we have a feeling she may not be in a massive hurry to come back...
'Living For Love' hit the number one spot on the UK iTunes chart when it was released on Wednesday, and is taken from Madonna's new album, 'Rebel Heart', which goes on sale next month.
She gave a slightly less accident-laden performance of the track at the Grammys earlier this month, decked out in a matador costume, in keeping with the song's accompanying music video, which she first unveiled on Snapchat.
LIKE US ON FACEBOOK | FOLLOW US ON TWITTER