Like any young woman, Justine Durno has dreams. This 26-year-old is currently in her third year of studying medicine and wants to become a GP.
Unlike others, however, The London School of Medicine and Dentistry student has more than the usual hurdles to jump. On top of the countless exams, stress and pressure, Glasgow-born Justine is also deaf. Instead of letting her impairment get in the way, Justine's used it as a tool to propel herself forward and push herself harder, so she can finally achieve her ambitions of becoming a doctor, even if it is against the odds.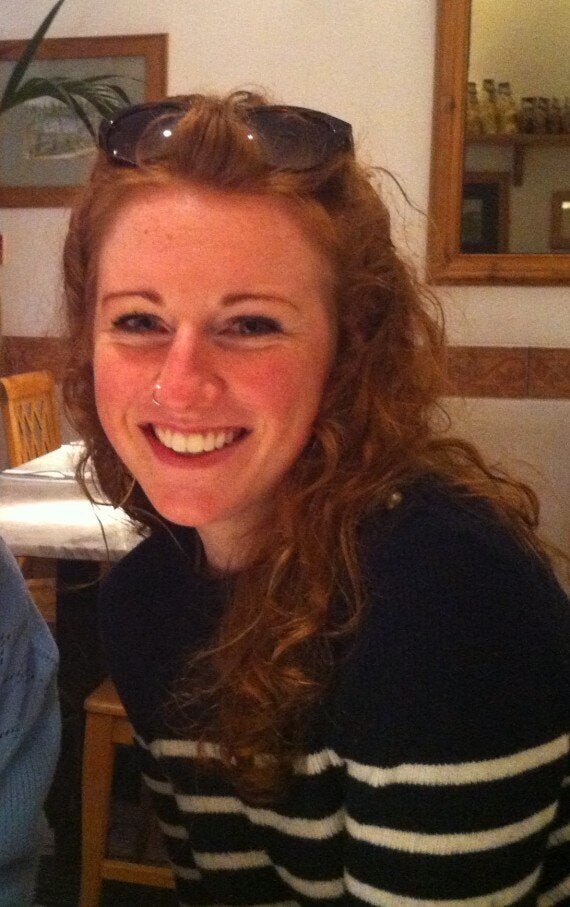 At what point did you first realise your ambition was to become a GP?
I am not happy when not being challenged, and Medicine presents HUGE challenges, which I thrive upon – it makes me feel mentally stretched and alive. I get a kick out of knowing I've managed to do just as well as my hearing peers, through sheer hard work, determination and perseverance.
Deafness is not a learning disability and, given the right support and effective teaching, there is no reason why most deaf people cannot achieve as much as others. I don't think everyone in society really understands that so it was important to me that I was able to prove myself academically.
When I was in sixth form, I started thinking about my career and thought to myself "what would be the most difficult thing for me to pursue?". Medicine is hugely competitive and being a GP is a tough job. So I chose that!
I also thought it would fit best with my strengths- I was always a high achiever in the sciences. I knew I would enjoy the process too, I see medicine as the art of problem solving and the patient as a complex puzzle. There are so many things you have to take into consideration along with the patient's signs and symptoms, such as their social background, their ideas and concerns, and their mental state.
Equally, I have wanted, for a long time, to work with deaf people. Research has shown that there is a huge health inequality amongst the deaf community. Visiting the doctor can be hard for anyone but when you have a health concern you know the steps to take to address it – you pick up the phone to make an appointment, understandably there might be some anxiety as you wait in the surgery to hear your name called, and then of course it's time to tell the doctor what's worrying you and to listen to their medical advice. Talking about personal health issues can be worrying and uncomfortable no matter who you are or what your age. Imagine though if even the process of seeking medical advice is a challenge. This is the reality for many deaf people.
Do you think society is generally accepting towards deaf people?
Without the right support, deaf children and adults are vulnerable to isolation, abuse, bullying, poor self-esteem and low levels of achievement. I am very fortunate to say that this hasn't been my experience. I got the right support. I had the support of my family – a family is the most important influence on a deaf child's ability to achieve – and I had the support of my teachers.
Every deaf person has a different experience with society's attitude towards them. Personally, most people I have met have been very accepting and accommodating. Ask another deaf person, and they will give you a different story. In general, society has become a lot more accepting over the years but there is still room for MUCH more improvement. This stems from a lack of education and awareness about deafness and deaf issues.
I've only ever had one bad experience I can think about, where a nurse was incredibly rude to me, starting from me not hearing her call my name in the waiting room (she called me by my middle name, hence I didn't respond), she was rude when I politely asked her to face me so I could lip-read her, and felt that she knew more than me about what I should be able to hear. It ended up with me leaving the consultation in tears before it had even started. But apart from that, I meet lovely, understanding people!
Outside of school and university, and in my adult life, I am surrounded by deaf people (as the vast majority of my friends are deaf), and my hearing flatmate is absolutely one in a million – she just 'gets' it, and she has learnt sign language. So I make sure I am surrounded by those who bring positivity into my life, and I don't push myself to fit in with people who I struggle to understand, or who are not understanding of my deafness. It's not worth it, and I think that is the key to my happiness – something I have come to realise since moving to London.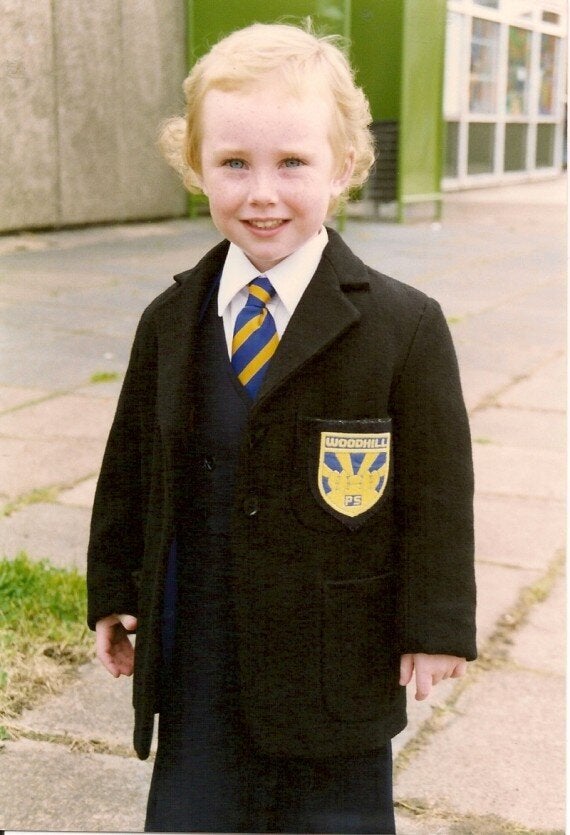 Justine on her first day at school
Do you think your deafness has strengthened your conviction to enter a medical profession?
I believe my deafness will make me a better doctor. I depend on lip-reading, and cannot listen and write notes at the same time, patients always have my undivided attention when they are talking to me. This really helps build up a relationship with them, and make them feel listened to. Also I will always relay back to them what they have just told me, to make sure I have heard everything correctly – this is a great piece of communication skill that is encouraged by medical schools.
Also whenever I come across an elderly deaf patient, communication is really good because I know that it's not all about bellowing in their ears. Telling them that I am also deaf tends to bring out a smile in them and put them at ease! Additionally, my presence in group settings demands that people look at each other, speak clearly and one at a time – this makes for much better teamwork and a much more pleasant working environment, where people are more in touch with each other.
The main barrier that deaf people face in healthcare is lack of accessible information and communication. Many appointment systems are telephone-based meaning that deaf people rely on family or friends to make calls for them. Some professionals aren't aware of technologies that may help deaf people.
I want to contribute to spreading deaf awareness amongst the medical profession, and to use my knowledge of BSL and deaf culture (because deaf culture is different to hearing culture!) to provide medical care and education to the deaf community in THEIR language.
How important is it deaf children are made to feel included?
I have volunteered occasionally with the National Deaf Children's Society, the leading charity dedicated to creating a world without barriers for deaf children and young people, at their activity days, weeks and weekends. It's really important to me that deaf children and young people have the opportunity to take part in the same activities as their hearing friends and siblings do.
Deaf children and young people need to be able to take part in activities they enjoy and not feel isolated and excluded. Because I know what that feels like, I went to dance classes in Newbury (when at school) and sometimes really struggled to follow what people were saying as it was an uncontrolled environment with people talking from all different angles.
Do you have any particular 'heroes' that have provided you with the inspiration to strive for your success?
Marlee Matlin, an American deaf actress who found her fame in Children of a Lesser God, is quite inspiring to me. She oozes confidence, and she has an interpreter that goes round everywhere with her, just like I do in hospital placements, and I admire how she proves that hearing and deaf people can work together seamlessly.
The real inspirations in my life, however, are those that surround me. I am able to hear from my friends and my sister about the obstacles and difficulties they've faced and overcome in their occupations and studies. One of my best friends is a teacher of a class of about 30 Year 2 children, many of which with additional needs; she struggles more with her hearing than I do, and she has taught her class how to be deaf aware, and they have learnt how to communicate with her, and have learnt some signs. And the class have made so much more educational progress than before she arrived. She is so inspirational to me. They give me a feeling of 'we're all in this together' and they give me the drive and belief that I can do it.
Paralympics is a great way of getting people habituated with the idea and sight of disability. It is a shame Paralympics is so separate from the Olympics, although they did include some para sports in the Commonwealth Games in Glasgow 2014, which is a start. If para sports were merged with the Olympics, then there would be more disability awareness, and the sense that disabled people have the right to compete in the same events as hearing people, and be involved in the same level of hype.
In the future, you'll have a pretty heavy workload! What will you be doing to relax in the time off from your studies?
I am currently learning Spanish, and I love going to my weekly evening class, and doing some Spanish practise during the week. I am also really into healthy eating and keeping fit, so you'll always find me cooking up some new crazy healthy alternative meals (healthy pizza anyone? healthy brownies?), or having a good sweat in the gym. I also find playing on my flute a good way to unwind, when I do have the time, and when the flatmate is not in!
Popular in the Community