The director of the film covering the last months in the life of Roger Ebert revealed that the stakes got much higher as the health of the legendary film critic began to fade.
Steve James, who previously made 'Hoop Dreams' which Roger championed through his blog and at Sundance Film Festival, tells HuffPostUK that Roger was diagnosed with what he thought was a simple hairline fracture soon after they started filming 'Life Itself' and he thought it would be good to "get some hospital footage, as he'd spent so much time there in the past seven years, and then resume filming his normal life".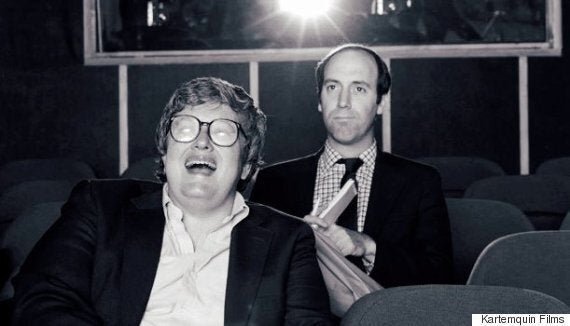 'Life Itself' follows Roger Ebert's rich journey, seen here with his TV co-host Gene Siskel
Events were to take a different course, however, as Roger, initially diagnosed with thyroid cancer back in 2002, grew weaker, and his days became numbered even as the cameras rolled.
Robbed of the use of his voice and using a voicebox similar to that of Professor Stephen Hawking, Roger was used to communicating via email and notes, but these got less frequent, and he says himself in the film, "I won't be around when the film comes out."
Steve James remembers now, "His health wasn't in jeopardy when we started, but I had wanted to capture the way he coped with illness and I certainly got that, but I got it with the stakes so much higher.
"He handled it with humour and such spirit, it made the film all more poignant and moving although I expect that, had he survived all that, we would have still got the same message across."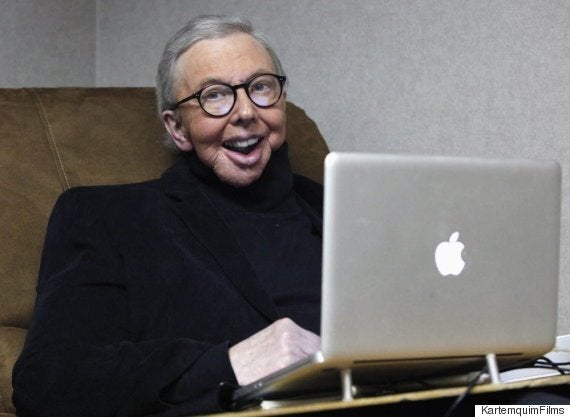 When Roger Ebert was robbed of his voice, he became a pioneer of online film criticism
While Roger, who'd been watching and reviewing films for 46 years, was aware of the demands of such an intimate documentary, but Steve knew that Roger's wife Chaz felt differently.
"For Chaz, it was hard because she wasn't used to being out of control, and she was his caretaker," says Steve now. "She was so vitally important to their relationships in terms of the illness and how she handled that, and to give up some of that control was not easy. But she got it, and became happier as the process went on."
It takes a brave person to direct the big-screen adaptation of the only film critic to ever win a Pulitzer Prize, but Steve was up for the challenge, even if Roger didn't initially agree with the plan to turn his memoir into celluloid.
"He wasn't sure we needed a documentary on him," Steve recalls. "It was one part humility, and one part pride in his memoir as a complete thing. There were some back and forth meetings, so I could explain to him what I wanted to do."
What is the answer to that, why it needs to be made?
"Because Roger's life was all about film, and he'd made such a significant contribution to the industry, that it was the fitting way for his story to be told," answers Steve.
"And he loved documentary, he was a champion of it, that it became part of the adventure of his life, which he always saw as a movie that he was directing, anyway."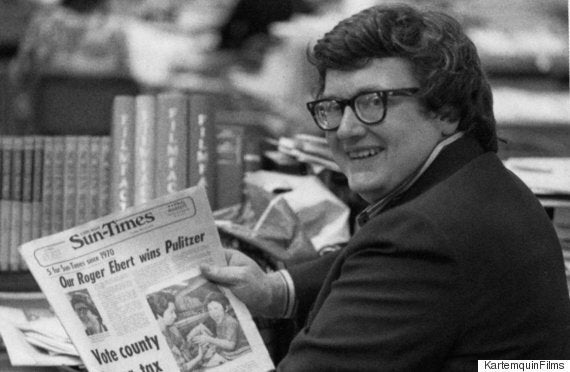 Roger Ebert is the only film critic to have been awarded a Pulitzer Prize for his work
The film follows Roger all the way from his precocious writing days as a student, when he gave the instruction to stop the presses in the light of JFK's assassination, through his complex, often troubled relationship with TV co-host Gene Siskel, and then to the days when, robbed of his voice, he became a pioneer of online film criticism. It also captures the days following his death when Chaz watched as cinemas across America paid tribute by dimming their lights. It must have been a hard watch for her when she did finally sit down to see her husband's life revisited…
"She went through this interesting process," Steve agrees.
"The first time she saw a cut of the movie, she seemed very removed, very focused on what wasn't there. There were two things going on – a belief that this film needed to be THE comprehensive complete statement of who her husband was because he's gone now, and perhaps the emotion was too overwhelming to consider, so she completely withdrew from it."
With such a multi-faceted, culturally rich life as Roger's to document, I wonder what the most important thing to capture would be… Steve's pondered the same thing.
"Roger didn't name his memoir My Life in film, there's no mention of film in the title. I remember thinking what a curious title for this person, but I feel more strongly now that Roger embraced this grand adventure of living, and he embraced life itself, in all its dimensions.
"He liked to paint the analogy between life and films – "the movie of my life" – he came to this realisation that life is this grand movie in a deep sense – at times an adventure, a comedy, a porno, at times a tragedy, and I think he embraced it all.
"That's the tremendous lesson of his life for me and what I tried to make the film about."
And why did one man, by simply writing about the films he liked and didn't like, succeed in becoming such a unique, influential voice?
"There was a confluence of many things that came together," says Steve.
"On the one hand, he was a born writer, tied to his Midwestern roots, smart but without ever being showy. Plus he came of age at the beginning of the new age of American cinema with films like 'Bonnie and Clyde' and 'Midnight Cowboy', during the growth of the cinephile culture here in the US.
"At each juncture in his life, he was part of something that extended the notion of what film criticism could be, first as a film critic to win the Pulitzer, then as a film critic on television, – first film critic to win Pulitzer, then as one of the first film critics to go on TV, then as this leading critic on the internet.
Will it ever happen again? There's a big sigh.
"Never say never, but it's hard to imagine," is Steve's opinion. "There are many talented film writers out there, but none of them have the reach and authority and power of Roger Ebert."
'Life Itself' is available on DVD now. Watch the trailer below...