Kanye West's performance at the Brit Awards may have been practically muted by ITV, but that hasn't stopped people filing complaints about it in their droves.
MORE BRITS:
During Wednesday night's awards ceremony, Kanye took to the stage to perform a new track, 'All Day', after being welcomed to the stage by his wife, Kim Kardashian, who came to London especially for the occasion.
Unfortunately for fans of the 'Bound 2' rapper, who were hoping to get a taste of his new material, Brits producers decided to mute an awful lot of the audio, due to what can only be described as Kanye's potty-mouth.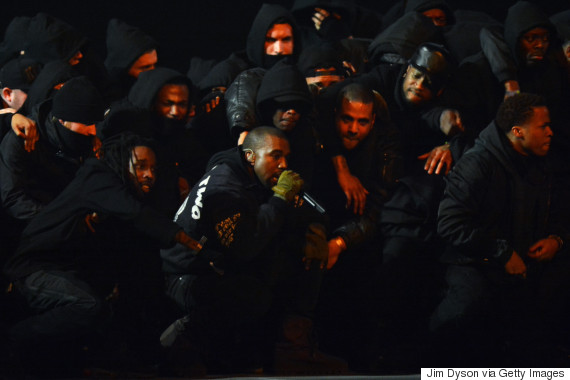 Kanye West performs 'All Day' at the Brits
However, such was the ferocity of his bad language, a few of his grands mots managed to slip through the net and onto the airwaves, including a use of the N-word in his rap, which has prompted over 100 complaints to Ofcom in just a matter of hours since the performance aired.
By this morning, 123 people had complained to the broadcasting regulator about the language used during Kanye's Brits performance, and they've told Now: "We'll assess the complaints against the broadcast code and if there was any potential breach we'll be shutting our broadcast and bulleting any attended action.
"A statement from any investigation will be published on our website."
Other highlights from the Brits included Paloma Faith finally winning the British Female Solo Artist prize on her third go, One Direction's fans kicking off at Royal Blood for winning Best British Group, and Madonna having the ultimate 'woopsie' moment as she was dragged down three stairs by her cape during a rendition of 'Living For Love'.
LIKE US ON FACEBOOK | FOLLOW US ON TWITTER