Oculus VR has always said that its virtual reality headsets were about more than just gaming and watching movies. And once Facebook had paid $2 billion to acquire the company and its critically acclaimed hardware, it seemed like that argument had been settled.
Since then however we've not seen many actual uses for Oculus Rift that would add anything to traditional social tasks like video calling.
Well now that's all changing: Summit Tech has announced plans to show off a new 360-degree video chat solution at Mobile World Congress in Barcelona.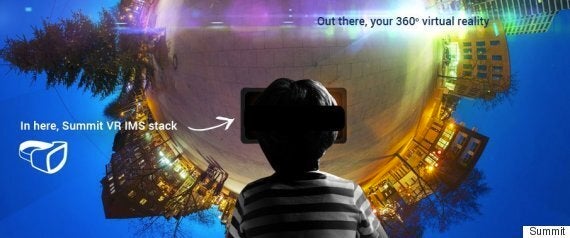 The system would allow you to wear a virtual reality headset, and then see the location from which your friend or colleague is calling in real time and from any angle.
Using Giroptic's 360 camera, the system would work for smartphones according to the press release — hinting, for instance, that a system involving headsets like the Oculus/Samsung Gear VR could be used in place of fully PC-connected headsets.
There remains at least one obvious problem, though — if both sides of the conversation use the headsets, won't you both be staring at a view of either a person in a room wearing a headset, or the view from the headset itself?
Will this create an infinity vortex, inevitably leading the destruction of the mind of the wearers? Will it also mean that people calling into work meetings from home will finally have to wear trousers? Time will only tell.
Alido Di Giovanni, President of Summit Tech, said:
"In a market which has become resigned to innovation coming from OTT players, we have come up with a whole new way for wireless operators to retake the initiative,. It is time for operators to better leverage their IMS deployments and provide something that can truly excite consumers again, beyond just getting faster Internet or cheaper data packages. With IMS, why stop at basic Enriched Calling - delivering truly immersive experiences is one of the many ways they can begin to amaze."