Storytelling is one of the best ways to break down stereotypes, and one woman harnessing this power is playwright Aisha Zia, whose play No Guts, No Heart, No Glory about female Muslim boxers caused a much-needed stir.
It won the The Scotsman Fringe First Award 2014 and it wasn't a solo effort. Zia did it along with five 18-23-year-old Muslim Pakistani women from Bradford. One of whom was Saira Tabasum, the former British Universities Female Boxing Champion and Torchbearer for the London 2012 Olympic Torch Relay, and former British National Champion Ambreen Sadiq.
Zia herself is bold, passionate and outspoken, and having spent some of her childhood feeling like she didn't quite fit in - 'I wasn't Asian enough for the Asians but not quite English enough for the English', she felt compelled to tell the story of these strong, fascinating women.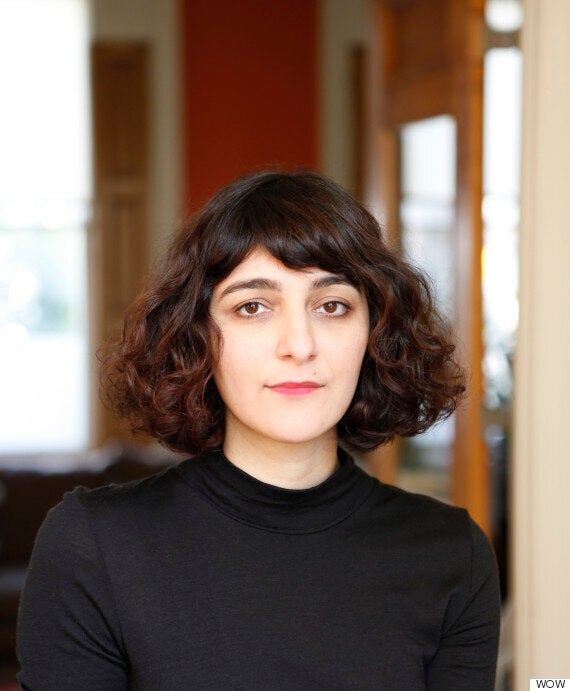 Photo credit Maja Daniels
While researching the play, she met women who confounded the Muslim stereotype, and in telling their story, has humanised a section of society that many Brits are ignorant about. And where there is education, there is understanding. Here we chat to Zia about the spark the created the fire of debate.
You once said you struggled with loneliness as a teenager - feeling like you were on the outside. Why was that?
There weren't many Asians in Peterborough when I was growing up so most of my friends were English. By the time I got to secondary school I continued to have English friends.
I spent most of my time including weekends and evenings in the library reading or doing homework because going out socially wasn't something my parents particularly agreed with.
It was difficult mixing with white girls and boys outside of school, but then I didn't have anything of interest in common with Pakistanis so I just found space where I could be on my own.
Why female Muslim boxers?
There aren't that many good role models any more, when you watch crap TV and there's the Kardashians or the Towies or whatever. Everything in the media is negative or focused on terrorism, consumerism and body image.
Boxing is a metaphor for being disciplined and strong, even in your daily struggles. Its not even about winning or losing, its about being present, showing up for the fight. I had a really good friend growing up and she was a role model to me. You need someone who is almost like a life coach. That's what we loved about the boxing element.
A lot of Muslim girls don't have that. Someone who teaches you to stand up for yourself, and tells you, you can be anything you want to be despite cultural baggage. No Guts, No Heart, No Glory is exactly about that. Being who you want to be, and standing up to bullies whether they are in your home, your community or in the school playground. And focusing that energy to do well, to achieve something you can be proud of. Photo credit: Christopher Nunn
When I met Ambreen (Sadiq), she really inspired the play, she was the first female Muslim boxer in the country, and a National Champion, she told me about her experiences growing up and it really resonated. Ambreen really inspired the play because of her confidence and her personal story.
We both wanted to be role models, and in a way that's what the play has created; some strong female characters that can fight back and challenge cultural and gender based stereotypes, and it's a real breath of fresh air.
What research did you do before writing the play? Did you meet any female boxers?
I boxed Amir Khan! Well, I had a masterclass with Amir Khan in Bolton. It was really good fun, and great to meet him. I'm quite into method writing. I like to live a bit of what I'm writing about. I moved to Bradford for six months to be close to the cast and the director Evie Manning whilst I was writing the play. It was an organic process.
Everything has to be very real and come from a real place. That's part of our process. I make theatre with my theatre company Common Wealth. We're a great team of artists and collaborators and we've really developed a unique way of making work. All our plays start with questions. We go out and find people to interview who help us shape the story.
So yes, I interviewed lots of female boxers including Ambreen and Saira Tabasum who is a cast member. All the girls are from Bradford, which is pretty incredible! Proper bruisers up North (laughs).
Aesthetically we went to real boxing gyms, saw some real fights. It's all very site specific, from the moment we start. This all feeds in to the development of the play. It's very visceral and raw. We love that.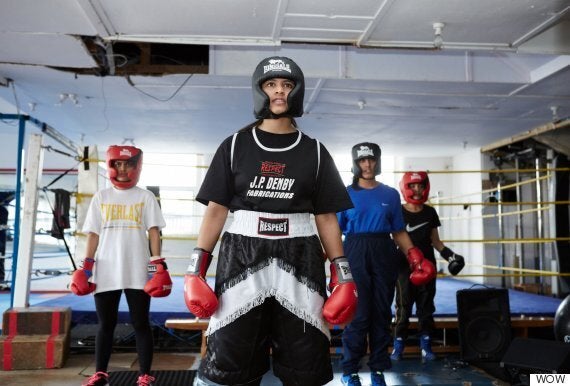 Photo credit: Christopher Nunn
Do you think people have preconceptions of what Muslim women do and say, and what are they? What were their experiences of taking up the sport? Had they faced any criticism?
Actually we met a lady with 11 children who boxed to keep fit. That challenged our preconception of what Muslim women can do. Why can't a Muslim woman wearing a full niqab with 11 children box?
Alaa Al-Abasi was the first person we interviewed, and it was so good to speak to her because we realised that what people think of Muslim women is that they are submissive, and actually being well spoken and having attitude is not something people expect.
All the girls we spoke to had supportive families, and one of the messages in the play is just that, if you have supportive families then that doesn't leave room for anyone else to comment negatively about what you are doing.
Meeting some real Muslim women boxers was such a positive and life affirming experience, and we wanted to celebrate that really. It's completely unexpected. Even for us. And I think that's what I love about the work that I do- its unpredictable, I'm learning as I go, it challenges my own preconception and that's why its important.
You've also been described as fearless - do you feel like that inside and what gives you the push to get your ideas heard?
I remember when I was at school, I was quite sporty I would play football at lunchtime with my friends. I came home one day and my dad asked me if I had been playing with boys. Of course someone from school had gone home and told their parents, and then word got back to my dad (he had a video shop, so was quite present in the community). That made me quite angry.
I felt spied on and betrayed, because I wasn't doing anything wrong. I think I use that fire in the work that I do now. I can't stand injustice whether it's personal or political. You can't be afraid otherwise you've lost already. There's no room for fear! You have to be brave in your everyday life, be inspired and inspire other people. If we want to change things, then we have to stand up for ourselves and for those who are less able to. We have a social responsibility, and I take that responsibility very seriously.
When it comes to women in the arts, what would you like to see?
Generally, I think expectations of what women can achieve are pretty low. And what Asian women can achieve is even lower. I think that really bothers me and by doing this play I think we've shown that women can do and achieve anything they want to.
We're making work at the heart of working class communities; it's accessible because we believe art is for everyone. Part of the process is going in to the community, doing out reach and talking to people, we bring theatre to people who don't think theatre is for them. I think that's why we are changing the landscape of British theatre.
We're taking ownership of it again, taking it back to where it belongs, looking for new voices that desperately need to be heard. It's women doing that and now we're on the main stage.
You also worked on Our Glass House - is focussing on women's issues really important to you and why? Have you ever found or did you find that people had pre-conceptions of what a woman could do and you proved them wrong?
I'm a humanist. I'm interested in global issues that effect men and women and I look at human rights issues more broadly. I think we can only be civil if we stop marginalising.
Women don't need more help or attention because they are women; black people aren't less able because they are black. I hate the term diversity, its so patronising.
I think we need to be looking at the shared human experience and actually look more to what our current political systems are doing to our society, and how capitalism is basically destroying the planet. There isn't too much time to go on about feminism (though I am a feminist); we need to fix the planet so there is equality for everyone.
For example in Our Glass House there is a male survivor of domestic violence. No one expects that because men don't speak up about it. We felt it was important to have this character in the play so it doesn't let women off the hook. I believe in gender equality yes, but I believe in fairness and ethics more generally.
I'm about to start working on a play about Bhopal, and talking to survivors of the chemical disaster there in 1984.
We're also working on a play about TTIP (the Transatlantic Trade and Investment Partnership) - which is a secret bill being passed between the EU and America that will basically change the trading laws in this country forever and devastate the economy if it gets through. Another play we are working on is about working class orators. Where have all our working class leaders gone?
I think by doing all of this work, taking an interest in global politics and world issues, and being a theatre company of predominately young women with strong socialist values we are in ourselves challenging misconceptions of what women can do, our work is political and it has to be a reflection of ourselves. I think we have proved them wrong already. Whoever they are. And will continue to fight the cause.
No Guts, No Heart, No Glory is at Southbank from 5-8 March 2015 as part of Southbank Centre's WOW - Women of the World Festival. The play text is published by Oberon Books and can be purchased here.
HuffPost UK Lifestyle are running a month-long campaign during March called All Women Everywhere, championing women from all walks of life. If you would like to contribute, please email us here.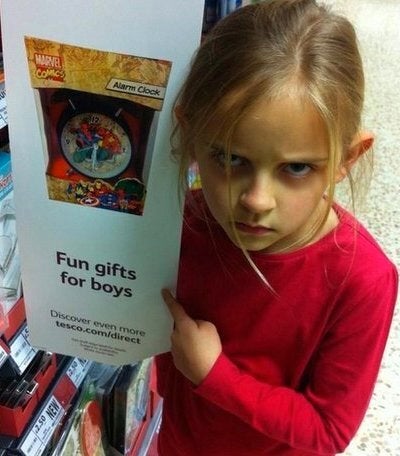 Young women doing incredible things