A shockingly obese 10-month-old baby girl in India has weighed in at almost 3 stone, making her one of the heaviest children in the world for her age.
Baby Aliya weighs 2st 13lbs (18.7kg), the same as a six-year-old girl, and her parents, dad Mohammad Saleem and mum Shabana Parveen, are gravely concerned for their daughter's health.
Aliya was born at a relatively large 4kg (9lbs) but started rapidly piling on the pounds once she hit the four month mark.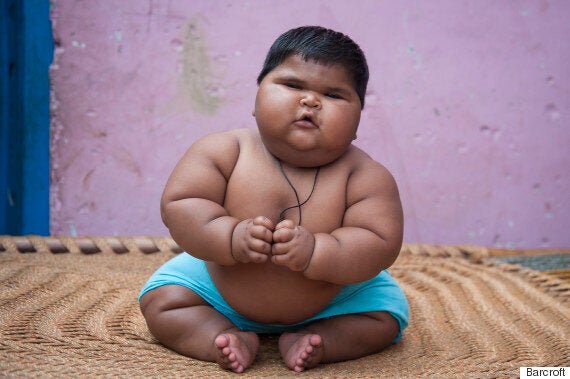 Her mother Shabana Parveen, 25, said: "A few months after her birth, she starting gaining weight.
"We had to buy her a new pair of clothes every two weeks because the old ones become too tight for her."
The enormous weight has put baby Aliya's life in danger but the family have lacked the financial means to get their daughter the best medical care.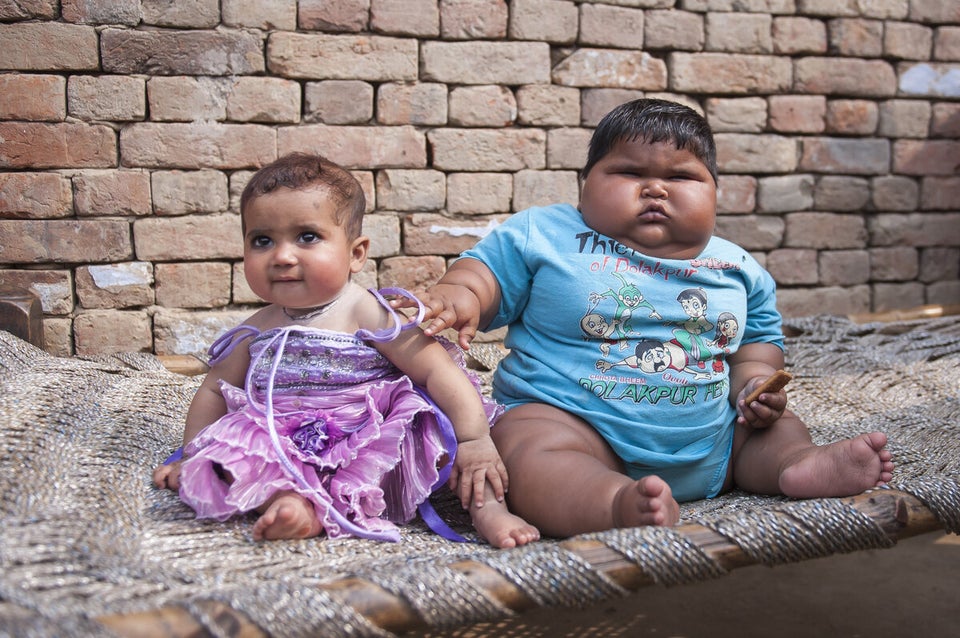 Baby Girl Weighs More Than An Average 6-Year-Old Day
Her father, Mohammad Saleem, 28, said: "We have tried our best, but we could only afford to take her to the local hospital.
"The doctors in the village could not tell us clearly what she is suffering from.
"We took Aliya to a doctor in Ranchi. After the check up the doctor suggested that we go to another city, but we couldn't afford that so we didn't take her."
However, Aliya's parents recently managed to get a consultation at Fortis Hospital on the outskirts of Delhi in a bid to try and get to the bottom of their daughter's gigantic weight gain.
Dr Krishan Chugh, head of paediatrics at Fortis Hospital, said: "This is the heaviest baby at 10 months of age that I have seen.
"I have seen 10kg-plus, 12kg-plus babies in the past. But this is way above the rest. Over 18 kilograms is an extreme weight figure."
According to World Health Organisation (WHO) guidelines, the average weight of a 10-month-old in the UK is 1 stone 4lbs (8.5kg) - less than half Aliya's weight.
"This could be case of morbid obesity or even a hormonal imbalance. But we need to conduct some tests on her before making a proper diagnosis," Dr Chugh said.
"The treatment depends on the diagnosis that we make. There are some disorders that can be treated.
"As far as the reversal of this weight gain is concerned, that would depend on when we find a cause for it."
Aliya's giant frame poses problems for mum Shabana, who struggles to hold her in her lap for very long.
She said: "She has become very heavy. My husband comes home very late from work.
"So all through the day, I have to do household chores and also look after Aliya. It is difficult because she cannot even sit still on her own.
"She keeps crying throughout the day. She wakes up at night abruptly and also she cannot breathe properly."
Shabana and Mohammad have another son - five-year-old Ali - who is a regular weight but has been unable to attend school due to their financial difficulties.
Tragically their older daughter, Simran, died at just one and a half years old after gaining weight in a similar fashion to Aliya.
Mohammad said: "Simran had breakfast in the morning. I left for work after that. I got a call that Simran was not well and blood was coming out of her mouth.
"We rushed her to the hospital but the doctors told us that her nerves had been damaged and she has passed away."
Shabana added: "We are scared. Simran kept gaining weight all the time. Just like her, Aliya is also growing.
"So if we leave her untreated, we fear for the worst."
Aliya's increasing weight is making her parents nervous about their own future too.
Her daily food intake, according to Shabana, is three times that of a normal child - putting a severe strain on the family's finances.
"We have limited means, so there are instances when I have to borrow money from relatives or friends to feed the family and Aliya," said Mohammad, who works as a tailor and earns less than £3 a day.
But despite her ever-increasing weight, Aliya is the favourite baby in the village.
"Everybody in the village loves her. Kids also come and play with her. But very few can lift her," said a smiling Shabana.