The scale of sexual abuse of children in Oxfordshire has prompted the local police force to admit it feels "ashamed" of its failure to stop it.
A report published on Tuesday found hundreds of girls may have been abused in the country, and called it "indescribably awful".
As many as 373 potential victims of child sexual exploitation have been identified in the county over 16 years.
Victims were groomed using drugs, alcohol and gifts before they were physically assaulted, forced into prostitution, raped and drugged, the report said.
But a serious case review revealed a catalogue of failings by authorities meant the scale of the abuse was not recognised and opportunities to tackle it were missed.
Thames Valley Police Chief Constable Sara Thornton reiterated an apology to victims and their families for not identifying the systematic nature of the abuse sooner.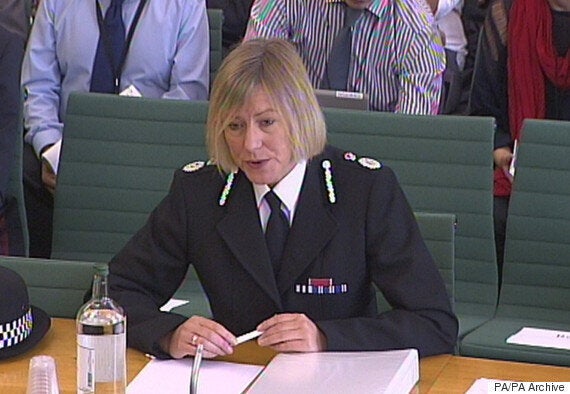 Sara Thornton, pictured here giving evidence to Commons Home Affairs Committee, said her force was 'ashamed' of its failures
She acknowledged that the force could have identified the abuse between 2004 and 2010 earlier than it did and "many errors were made".
She said: "We are ashamed of the shortcomings identified in this report and we are determined to do all we can to ensure that nothing like this ever happens again."
The case reviews said that scores of professionals across a string of organisations or departments "took a long time to recognise CSE, used language that appeared at least in part to blame victims and see them as adults, and had a view that little could be done in the face of 'no co-operation'."
The review was commissioned in 2012 after a paedophile ring was exposed.
Five of the seven perpetrators convicted over abuse in the county were of Pakistani heritage, while the victims were all white British girls.
The report said: "The association, not of all Child Sexual Exploitation (CSE) but group-based CSE, with mainly Pakistan heritage is undeniable, and prevention will need both national understanding, communication and debate, and also work with faith groups at a local level."
However, the report said that there was "no evidence ... of any agency not acting when they should have done because of racial sensitivities".
The CSE in Oxford has similarities to a child abuse scandal in Rotherham, where more than 1,000 children were believed to have been abused over 16 years.
Jim Leivers, Oxfordshire County Council's director for children, education and families, said the council "made many mistakes and missed opportunities to stop the abuse".
In a statement, Oxford City Council said the report "shows very clearly that the girls were badly let down by the people and organisations that could - and should - have protected them".
The statement said: "The dreadful experiences faced by these young women can never be put right. But the safeguarding board is now in a much better position to prevent, disrupt and detect these crimes."
It also said evidence shows that child sexual exploitation is "continuing" in Oxfordshire.
A joint statement from NHS organisations in Oxfordshire expressed "regret that the abuse was not uncovered and information acted on sooner".
It said: "What happened to these children is truly awful. While the review finds no evidence of 'misconduct' by the organisations involved, there are clearly areas for improvement in terms of being able to recognise signs of abuse and sharing information."
Alan Bedford, the author of the independent review, wrote: "What happened to the child victims of the sexual exploitation in Oxfordshire was indescribably awful.
"The child victims and their families feel very let down. Their accounts of how they perceived professional work are disturbing and chastening."
Javed Khan, chief executive of children's charity Barnardo's, said: "The grim reality of child sexual exploitation is being revealed town by town across the UK.
"In Oxford and elsewhere, vulnerable children are being failed by the systems and people who are supposed to protect them.
"Local agencies must do all they can to free those caught up in sexual exploitation and protect children from being trafficked, abused and raped. No vulnerable child should feel like they have been abandoned and left to fend for themselves."
Related