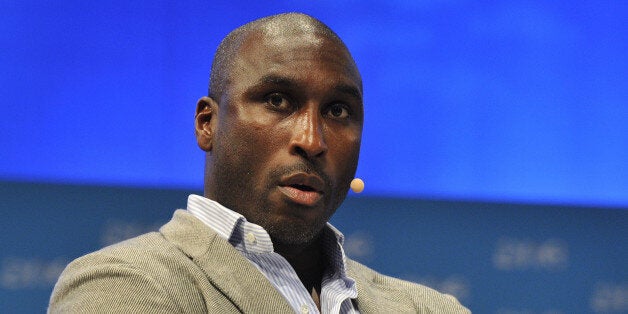 Ex-England footballer Sol Campbell has announced he will not put his name forward to be Conservative candidate in the safe Tory seat of Kensington, which is being vacated by Sir Malcolm Rifkind.
But the soccer star did not quash speculation that he is planning to launch a political career, saying in a statement that he has ambitions "elsewhere in the political arena".
The former defender, who made his name in the capital playing for Tottenham Hotspur and Arsenal, has been courted by the Conservatives and recently lunched with party chairman Grant Shapps amid suggestions he could run for London Mayor.
His name was widely linked with Kensington after he failed to rule out a bid in a TV interview over the weekend.
But in a statement, Campbell said: "Due to growing speculation about the upcoming seat vacated by Malcolm Rifkind in Kensington & Chelsea, I would like to say that I will not be putting my name forward.
"It is a plum seat and whoever is picked by the Conservatives will be the right person for the job.
"My ambitions lie elsewhere in the political arena. There are a lot of discussions to be had which I believe is the proper way to get to the right conclusion."
Sir Malcolm announced last month that he was standing down from Parliament at the May 7 election, after being filmed by undercover reporters discussing possible work for a Chinese-based company. He denies any wrongdoing.
Today the Daily Mirror reported that Manchester City, and former Chelsea, footballer Frank Lampard also turned down tory advances to stand in the seat.