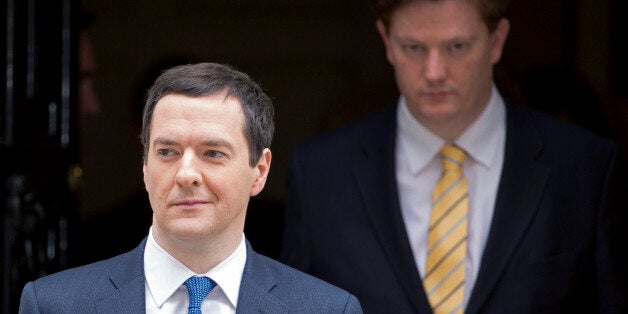 George Osborne's last Budget statement before the general election will mean "great things, jubilation, excitement and further progress" for Britain, a Tory minister has said.
Business minister Matthew Hancock, who is seen as close to the chancellor, gave the markedly chirpy assessment after the Huffington Post UK asked what business could expect in Osborne's Budget, which is set to happen in just over two weeks.
Speaking at a debate on Monday night organised by the small business network Enterprise Nation, Hancock told the audience of entrepreneurs that Osborne's keynote financial statement would be a "celebration of everything that has been done" and, in a tantalising hint about a potential pre-election giveaway, added: "Maybe something more".
The tone differed from Hancock's Lib Dem colleague Lorely Burt, ministerial aide to Treasury minister Danny Alexander, who insisted that "there is not likely to be any world shattering new initiatives announced one month before the general election".
Burt's restrained tone suggests that Osborne's last Budget will have a distinctly Conservative flavour, as she dodged HuffPost UK's invitation to say what her party would seek to "bring to the table".
Hancock (on right) and Burt (second from right) at the Enterprise Nation debate
The Lib Dem MP, who appeared alongside Hancock, continued to offer a sober verdict of the Budget, saying: "I think we're wanting to build on what we have done and keep things steady in order to continue on the trajectory that we are on and then whoever form the next government will have a good base to build on."
The pair's differing tones are the latest sign of the coalition's continued attempt at differentiation, as the Lib Dems seek to show off their work in time for the election.
Nick Clegg, the party's leader, caused a stir last year when he did not appear to listen to Osborne's Autumn Statement, and was absent during Prime Minister's Questions afterwards.
He explained later that he would "sometimes" choose to sit next to Cameron up to the general election, telling Radio 5: "Do I think that use of my time, sitting there biting my tongue as I listen to them say increasingly daft and shrill things to each other, do I think it's a great use of my time?
"No. Do I wish I didn't have to do it? Probably, quite a lot of the time."
The Lib Dems' contribution to the coalition's financial plans has been a topic of mounting debate after the head of the Office for Budget Responsibility, the government's spending watchdog, indicated that Alexander and Clegg had "signed off" on the spending plans so far revealed by Osborne.
However, asked if he had signed up to Tory spending plans, Alexander recently insisted: "No. There are big differences between us and Labour and us and the Conservatives.'