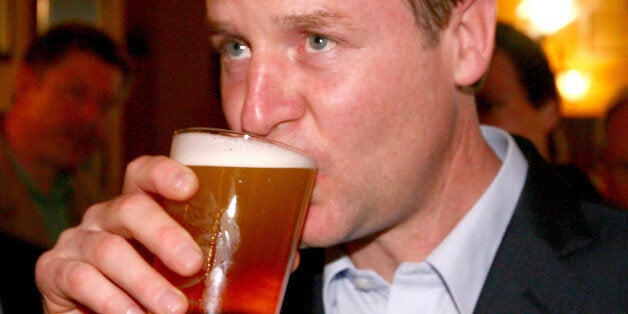 Nick Clegg has made a six-pint bet that the Lib Dems will have more MPs after the election than Ukip, despite polls that suggest even former party leader Charles Kennedy could lose his seat in May.
The deputy prime minister made the bet after being taunted by a Ukip parliamentary candidate called Keith, who called into Clegg's LBC radio programme on Thursday morning. The Lib Dem leader was told that his party would "fade into obscurity" after the election.
But Clegg hit back. "I will bet you several pints that we will have many, many, many, many, many, many more MPs than your party after May 7," he said. "I can close to guarantee your party is going to be a little pipsqueak party after May 7."
Encouraged along by host Nick Ferrari, Clegg agreed to how much beer was on the table in his bet. "All-right, six pints," he said.
Recent polling has suggested the Lib Dems are in for a tough night on election day. A YouGov survey for The Sun yesterday put the party on just 5% — their lowest poll rating in 25 years. In the same poll Ukip secured the support of 14% of the public.
Clegg is confident that he will return to Westminster with more MPs than Nigel Farage as he hopes Lib Dem support is focused in particular seats, whereas Ukip's is more evenly spread.
The Lib Dem leader did receive a shock last night however, as polling from Lord Ashcroft suggested the SNP surge in Scotland was so big that Charles Kennedy could lose his Ross, Skye and Lochaber constituency.
In the study of eight key seats, the SNP gains six and ties in Dumfriesshire, Clydesdale and Tweeddale - the Conservatives' only seat north of the border.
The survey also suggested that Labour would lose Gordon Brown's Kirkcaldy and Cowdenbeath seat. The former prime minister's constituency is being fought for Labour by Kenny Selbie.
Labour and the Conservatives are heading for a dead heat on polling day of 272 seats each, although Ashcroft was keen to stress some of the results are marginal and findings are a snapshot rather than a prediction.