As a woman in Britain, being an influential figure in football à la Karren Brady is no mean feat. But as a woman in a war-torn country like Sierra Leone, being the most powerful person in football is almost unfathomable.
Isha Johansen is the first female president of Sierra Leone's Football Association (SLFA). She's also the only female Football Association president in the world.
But it's her dedication to humanitarian work that makes Johansen truly remarkable.
She's changed the lives of dozens of underprivileged young men in Sierra Leone through her project FC Johansen, which aims to keep boys in school by supporting their love of football.
"I think women are born natural carers. I think that as leaders, we go beyond the rhetoric," Johansen tells HuffPost UK Lifestyle.
"We go beyond the politics and bureaucracy. We nurture, we care and we protect. It's just a natural instinct that we have, hence the reason we seldom go wrong when it comes to decision making and building."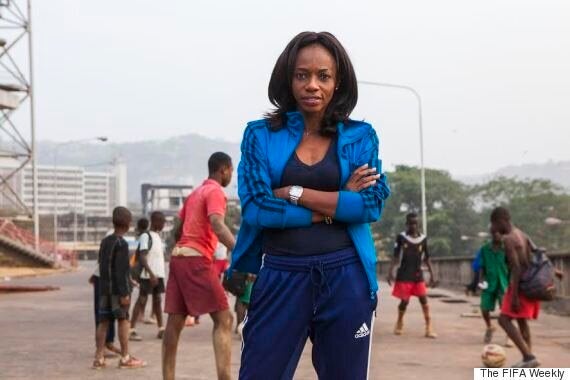 Johansen grew up in a football-loving household. Her father co-founded one of Sierra Leone's most famous clubs, East End Lions FC, and took her to stadiums to watch matches as a child.
Despite that, she never set out to own a football club, or even work in the industry at all.
"I was simply driven by a humanitarian desire to help some underprivileged young boys all under the ages of 11 who were playing football on a rocky slope just metres away from my home," she says.
"I watched them for a few months and no matter what time my husband and drove past the patch, these boys would be tirelessly playing football.
"It then dawned on me that they had neither parents or guardians who really cared for them, or a home in the true sense of what the average person would call a home.
"That's when I decided to step in and to cut a long story short, I struck a deal with them that if they promised to stay in school and do the educational bit, then I would support them with their passion for football."
From there, FC Johansen was born.
The majority of the population in Sierra Leone has a high illiteracy rate, and poverty is rife. As Johansen puts it "the average man is prone and vulnerable to whatever will seemingly improve their livelihood."
So it's perhaps not that surprising that the club that started in her neighbourhood soon spread across the country because of its reputation for nurturing orphaned and underprivileged boys.
The club's hard work has paid off, with many players going on to have trials in some of the world's most famous football teams, such as Chelsea, Manchester City and Liverpool.
"FC Johansen toured the world, showing the world that Sierra Leone was more than just a war torn country," Johansen says.
"We were not just about doom and gloom we are a nation ready to rise above the ashes and take on whatever challenges are out there."
In the past Johansen has done a lot of work to raise the profile of women in Sierra Leone.
She founded the Women of Excellence Awards, which recognises and celebrates women working in the region for their achievements.
So will she be helping to bring football for women to Sierra Leone?
"Women's football is a long haul in Sierra Leone but how can I leave office and not plan something at least for women's football?" she says.
"Ebola has affected us greatly as it has in every other sector in our country. However, we hope that schools will slowly start to introduce female football as part of physical education syllabus.
"FIFA is very keen to support us on a female national league and has donated thousand of dollars worth of kit for a youth and female football national league in Sierra Leone, and we (SLFA) will ensure academic sessions at the academy for youth and female players so as to combine education and football as a foundation."
So what prompts her to keep helping others?
"I'm inspired by those who have the conviction to rise above the odds, those who dare to challenge and those who are truly genuine to a cause and to their country," she says.
"They do things for their country and not wait to see what their county can provide for them. If you fail then you simply dust yourself down and get going again.
"These are the kind of people who inspire me. Some are worldly and globally celebrated, some are in total oblivion living in villages but equally going through massive challenges and making huge strides for their communities."
HuffPost UK Lifestyle are running a month-long campaign during March called All Women Everywhere, championing women from all walks of life. If you would like to contribute, please email us here.