The chair of the BBC trust has been told she should resign for being "incredibly naive or totally incompetent" over the HSBC tax avoidance scandal.
In an extraordinary clash at the Public Accounts Select Committee, Labour MP Margaret Hodge attacked Rona Fairhead, saying her claims she did not know about what was happening at the bank meant she should not be "the guardian of BBC licence fee payers' money".
Ms Fairhead serves as non-executive director on the bank's board and was appointed to head the BBC Trust in October last year.
Ms Hodge, who has earned a reputation as the most aggressive select committee chair in Westminster, was not convinced by Ms Fairhead's claims that she didn't know tax avoidance was going on.
Margaret Hodge: I want to come to you, Ms Fairhead, and I'm going to say something. It's a bit unpleasant to say, and I'm just saying it as a licence fee payer. Having watched your performance this afternoon I've got to say this to you, that either you knew...

Rona Fairhead: I categorically deny that.

Margaret Hodge: Or you didn't know. And in that case you are either incredibly naive or totally incompetent. I don't think that the record that you have shown in your performance here as a guardian of HSBC gives me the confidence that you should be the guardian of the BBC licence fee payers' money. I reallly do think that you should consider your position and you should think about resigning and if not, I think the government should sack you.
Ms Fairhead had "categorically" denied knowing about the Swiss tax scandal at the time and said that she had been "unyielding" in acting against wrongdoing.
She said: "I think that first and foremost the people who are most culpable are those people who evade taxes."
She added: "We were horrified when we discovered. I can assure you absolutely no evidence of tax evasion was received. I could only respond to evidence that I had and I could only deal with that."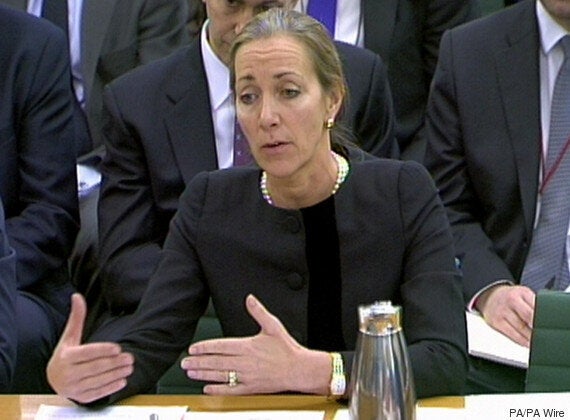 Rona Fairhead giving evidence
But Ms Hodge said for a highly-paid non-executive to "simply take the evidence and not question, to me would mean she is not fit for purpose".
Ms Fairhead denied claims that she is paid £10,000 a day by the bank.
HSBC's annual report showed she received £513,000 in fees and benefits last year including a £334,000 fee as non-executive chairman of HSBC North America Holdings.
One MP, Austin Mitchell, said her pay seemed like "money for jam".
Ms Fairhead said she worked 75 to 100 days a year including weekends for the bank, plus 150 to 180 days for the BBC, as well as 25 days in a separate role for Pepsi.
The hearing also saw the bank's chief executive Stuart Gulliver insist he was the right person to lead the bank after being questioned over his own tax affairs.
He was grilled by MPs after it emerged he had funnelled £5 million of his own money into a bank account set up by a company in Panama.
The same hearing also saw the bank's chief executive Stuart Gulliver forced to defend his own position while Chris Meares, former group head of private banking, was accused of being an "unreliable witness".
Mr Gulliver said he was now paid and taxed in the UK and the details of the payment came from 17 years ago when he was based in Hong Kong.
He admitted "innuendo" surrounding his affairs may have caused damage to HSBC's reputation but insisted he was still the appropriate person to lead the bank.
"I believe I am because my tax affairs are in order and I have carried out root and branch reforms to HSBC in the five years I have been chief executive."
Mr Gulliver and chairman Douglas Flint have previously apologised in a separate hearing before MPs for "unacceptable" activities at HSBC's private Swiss bank.
Pressed further on his own tax affairs today, Mr Gulliver said: "I can see how you might see some inconsistency, but I think you are being a bit harsh.
"There was no tax evasion, no avoidance. It was simply done for privacy reasons. I have paid millions of pounds of tax at the top rate."
Related