The Creative Sound Blaster Roar is causing us something of a headache and it's nothing to do with the volume.
It's fair to say that there are a LOT of Bluetooth speakers available right now, ranging from the cheap and cheerful to the eye-watering and concert hall-filling. The Roar wants to stand right in the middle of those two avenues, with feet in both parties.
Its price is slap bang in the middle of what you should be spending on a high-quality speaker, and yet if you look at the accolades this thing has received you'd have thought it had tricked a Saturday evening crowd at the Royal Albert Hall.
It hasn't, no speaker has, thank goodness. What it has done though is prove to be more than the sum of its parts, which are as follows.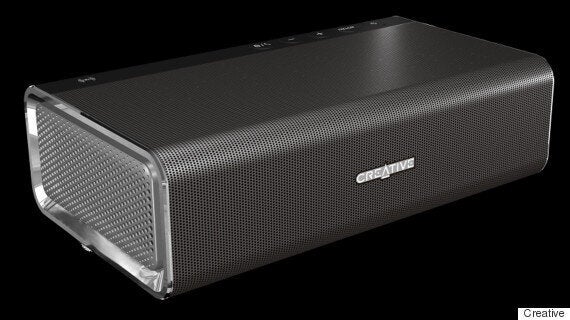 Many have praised the design of the Roar as being subtle but stylish, personally we're just going to stick with subtle. There are better-looking speakers out there by far, the Bowers & Wilkins T7, the BeoPlay A2. Where it falls then is the same category as the Bose SoundLink. It's well-built, subtle to look at and reassuringly sturdy.
It's compact as well. Creative has packed an extraordinary amount of hardware into not very much space so if you wished, the Roar could easily serve as an under-monitor speaker for your computer or just something to quietly hide in the corner of a living room.
Where the looks start to pale in significance is when we turn to just what Creative has managed to pack inside that body.
This thing has five drivers. That's frankly a silly amount of audio output to be cramming in something no bigger than a lunchbox. As such it weighs a tonne, and rightly so.
There are two powerful forward-facing drivers at the front, a massive 2.5-inch driver on the top that handles the mid and low range and finally two side-facing passive radiators in case that simply wasn't enough bass for you. When combined you begin to see where Creative came up with the name.
The Roar isn't especially loud, it's just incredibly dense. Imagine it as the difference between water and gravy. It's no louder than other speakers out there, it's just much more comprehensive in its range. The bass is -- as you'd hope considering the hardware that's in there -- incredibly prominent but thanks to the front-facing drivers it never feels drowned out.
If however you want loud, there's a rather handy 'Roar' button which does just that. We're pretty sure we prefer volume dials going up to '11' but as a compromise this will certainly do. The difference is notable and while loud volumes inevitably steam through the battery, a 6,000mAh battery secures you at least five-seven hours of constant streaming.
The Roar over achieves in other areas as well. It's a sound-recorder thanks to a microSD card slot, so if for some reason you want to record the phone calls you're having through the speakerphone then the option is there.
In conclusion, the Roar isn't what we'd describe as a 'cool' product. It's actually much better than that, it's unobtrusive. In a climate where Bluetooth speakers are trying to 'shout' above the noise through looks, the Roar does it by simply sounding good, really good.