Harrowing CCTV footage has been released showing the moment a kidnapping attempt was thwarted by the victim's siblings in broad daylight.
The 22-month-old boy, Owen, was snatched from a pram while at a park with his brother and sister in Sprague, Washington State at midday on Sunday.
A man reportedly made small talk with the boy's brother and sister before lifting the child from his stroller and fleeing.
Security camera video was released by police showing Brenden, 10, and Delicia, 8, chasing after the man who plucked their little brother from his buggy.
Brenden and Delicia's screams as they chased the assailant were what alerted local residents to the issue, prompting them to call the police.
"I told that little girl, I said, 'Honey, you did exactly what you needed to do scream your head off.' That's what saved that baby. Her screaming and us running."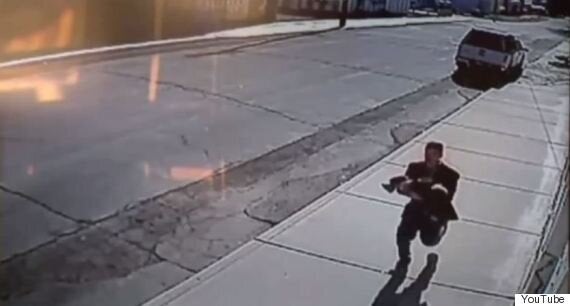 The criminal then dropped the child in a vacant car park and went on the run. He was pursued by onlookers 16 year-old Isaac Yow and 15 year-old Andrew Crain, but managed to escape.
Yow said: "She played the biggest part because if she wouldn't have been screaming we wouldn't have known nothing was wrong, and Andrew probably would've seen the guy running across the street."
"I can't explain the feeling, the anxiety and everything that goes into finding out your children is missing or something has happened to them," Owen's father Michael Wright said.
Popular in the Community