Former culture secretary Maria Miller has described Jeremy Clarkson as a "legend" and insisted the BBC had to improve the way it dealt with "larger than life characters".
And BBC director-general Tony Hall today said an investigation was going on to "gather the facts" about the incident involving Clarkson, adding that he was "a fan" of the Top Gear presenter.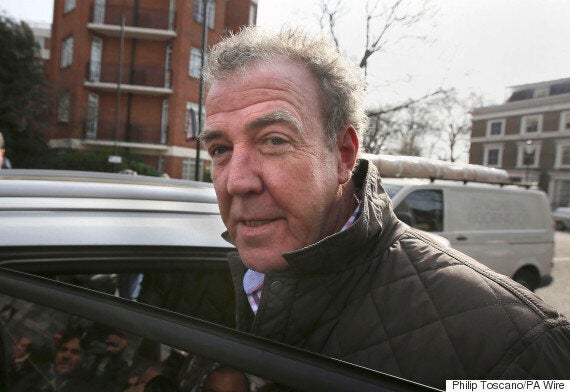 Jeremy Clarkson leaves his home in London, as he laughed off his latest controversy
"I think they need to sort this mess about quickly, and not be seen to be punishing the fans," she told BBC Radio 4's World at One.
"It's a fantastic show and I really think the BBC has got an obligation to get this sorted.
"The BBC needs to be better at managing its talent ... there are other organisations that have to deal with larger than life characters.
"Perhaps the BBC needs to pull in some of those skills, perhaps look at our football teams. People like (Arsenal manager) Arsene Wenger are doing this day in and day out."
Referring to Clarkson, Miller said: "He is, I think, a legend, not just in this country but around the world.
"But I do think there is a serious point here about people in his position realising that they are a role model for youngsters.
"My 13-year-old is one of his biggest fans and will be bitterly disappointed not to be able to see the show on Sunday, but equally I think will understand that the alleged behaviour that has taken place is very serious."
All three of the show's hosts were understood to be days away from signing new contracts that would have kept them at the wheel of the show for another three years when Clarkson was suspended.
"We have got an investigation going on," Lord Hall said. "The most important thing in anything like this is to gather the facts. We do not have the facts at the moment."
The peer added: "I am a fan of Jeremy Clarkson but this is a serious thing that is alleged to have taken place."
The BBC owns the rights to the Top Gear brand, which is valued at £50 million, and includes the show, DVD rights and live shows, raising the prospect of Top Gear continuing on the BBC while Clarkson takes a similar show to one of its rivals.
Two episodes of this series have been postponed and the future of the third and final episode is unclear after the bust-up which took place after filming in Newcastle.
A lawyer for Tymon said his client "intends to await the outcome of the BBC investigation and will make no comment until that investigation is complete".
A BBC spokeswoman said: "Following a fracas with a BBC producer, Jeremy Clarkson has been suspended pending an investigation.
"No one else has been suspended. Top Gear will not be broadcast this Sunday. The BBC will be making no further comment at this time."
Sunday's episode was set to feature Clarkson with co-hosts Richard Hammond and May getting to grips with classic cars such as a Fiat 124 Spider, an MGB GT and a Peugeot 304 cabriolet.
They were set to take to the road and end up at a classic track day, while Gary Lineker was due to be the "star in a reasonably priced car".
This is the latest in a long line of controversies which has seen the presenter offend foreign diplomats, viewers, MPs and his own bosses at the BBC.
Clarkson was put on what was called his final warning last year following a racism row after claims he used the N-word while reciting the nursery rhyme Eeny, Meeny, Miny, Moe during filming of the BBC2 programme.
In recent years Clarkson has been cleared of breaching the broadcasting code by watchdog Ofcom after comparing a Japanese car to people with growths on their faces, and he faced a storm of protest from mental health charities after branding people who throw themselves under trains as ''selfish''.
But each episode of the two-part Christmas special attracted more than seven million viewers, with a further three million for each episode on iPlayer.