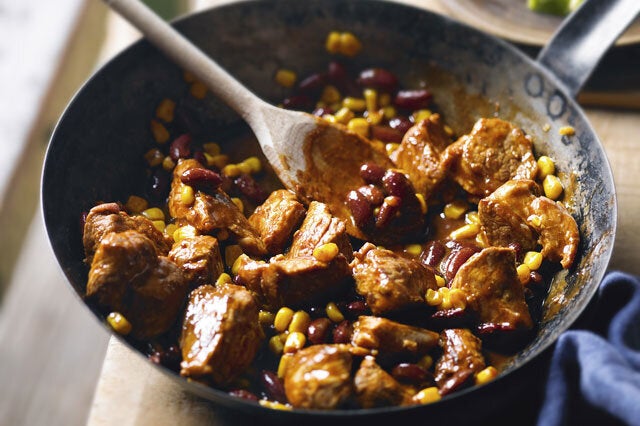 Mexican chipotle pork
Cook dinner for four in just 20 minutes with this super simple three step recipe.
Total Time:20 minutes
Serves:4
Ingredients:
300g long grain rice
1 pork fillet (approx 500-600g), trimmed and diced
2 tsp chipotle paste
1 tsp ground cumin
1 tbsp oil
395g can red kidney beans in chilli sauce
150g frozen sweetcorn
1 small avocado, diced
Instructions:
1. Cook the rice in boiling water for 12-15 minutes until tender then drain.
2. Place the pork in a bowl and mix in the chipotle paste and cumin. Heat the oil in a frying pan and fry the pork for 6-7 minutes until browned.
3. Add the kidney beans and sauce, sweetcorn and 100ml water and cook for 5-6 minutes until cooked through. Stir with the rice and serve with the avocado.