A group of schoolboys at Lincoln Middle School in Kenosha, Wisconsin have hit headlines for a heartwarming display of solidarity with a cheerleader who was being bullied.
The players were in the middle of a basketball game when they noticed Desiree Andrews, who has Down's Syndrome, was being bullied by a group of spectators.
They immediately walked off the court and called a time-out to confront the people picking on Desiree, who they affectionately call Dee.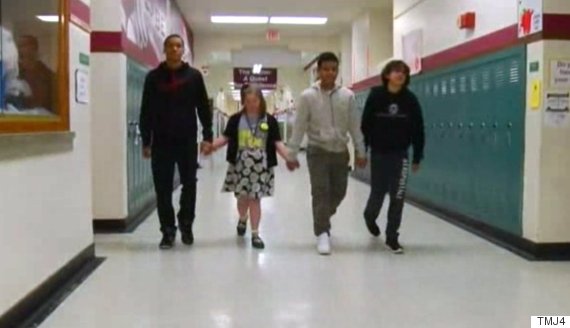 "The kids in the audience were picking on Dee, so we all stepped forward," said player Chase Vazquez.
"It's not fair when other people get treated wrong because we're all the same," added teammate Scooter Terrien.
"One of the kids stepped up and said, 'Don't mess with her,'" Coach Brandon Morris told Kenosha News. "Then all of the guys got together to show her support."
The school gymnasium has now been renamed "Dee's House" in her honour.
"It's amazing," Desiree's father said. "It's been a godsend to us ... those boys, I tried to talk to them in person, but I couldn't keep the tears back."
Desiree said the boys' actions were "sweet, awesome, kind, and amazing".
SEE ALSO:

An Entire Town Learned Sign Language To Surprise Their Deaf Neighbour

Dancing Man Fat-Shamed By Cruel Bullies, The Internet Stands Up For Him In Spectacular Style