Steve Strange's fellow New Romantics gathered today to give him a fitting send-off in Porthcawl in South Wales.
The coffin of the Visage frontman was decorated with glittering pictures of the singer during his pop days, and adorned with a top hat, as it was carried by his friends, including members of band Spandau Ballet, and his great pal Boy George, into the church for a service attended by more than 300 people.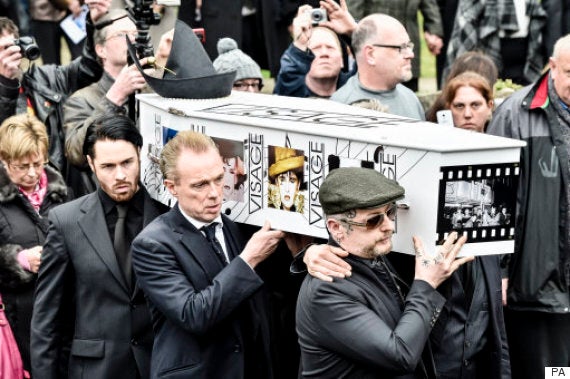 Steve Strange was laid to rest today, with pallbearers including Spandau Ballet bandmates and Boy George
It was a "deliberately flamboyant" farewell for one of the most distinctive and outrageous stars of the New Romantic pop period.
As well as members of Spandau Ballet and Boy George, stars attending the service included fellow frontman Martin Fry of ABC, celebrity hairdresser Nicky Clarke and milliner Stephen Jones, whose first ever client was Steve Strange.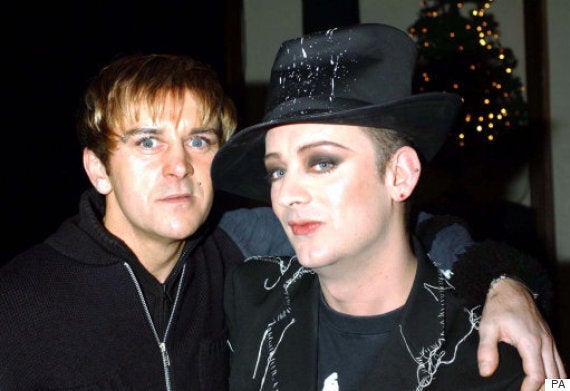 Steve Strange with his great friend Boy George, who saluted him during the service today
In an emotional address to the congregation, Boy George saluted his old friend as a "punk rocker and fellow freak".
He said, "Goodbye Steve - punk rocker, New Romantic, old romantic, first class show off, fellow freak, beautiful gay man, seminal pop star, wrecking ball, futurist fashionista."
Steve Strange, whose real name was Steven John Harrington, fronted Visage during their early 1980s heyday, when they enjoyed chart success with 'Fade to Grey' and 'Mind of a Toy'.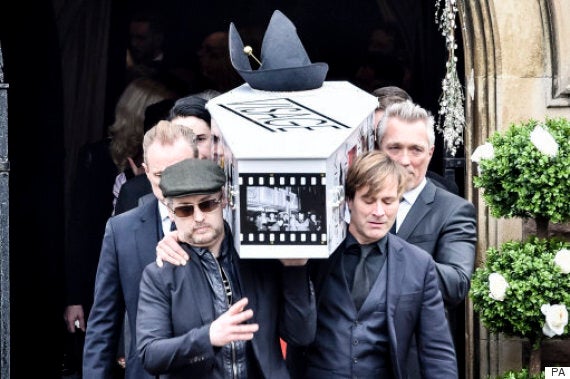 Steve Strange's coffin was adorned with one of his distinctive hats
Before he became a pop star, Steve was already considered a pioneer of fun and fashion. In his role as manager of the Blitz nightclub in London's Covent Garden, he regulated a strict door policy, admitting only the "weird and the wonderful" and, so the myth goes, holding up a mirror so prospective attendees could inspect themselves. The club employed Boy George as a cloakroom attendant, and fostered the creativity of artists including the Spandau boys. On one much-documented occasion, it even attracted the most outrageous of them all, David Bowie, who later invited Steve to appear in his video for 'Ashes to Ashes'.
In later years, he joined the Here and Now tour, along with other reformed bands, and then started writing music again as part of Visage. The band released their final albums, 'Hearts and Knives', in 2013, the first Visage album for nearly three decades, followed by 'Orchestral' as recently as December 2014, only two months before Steve Strange died of a heart attack on holiday in Egypt.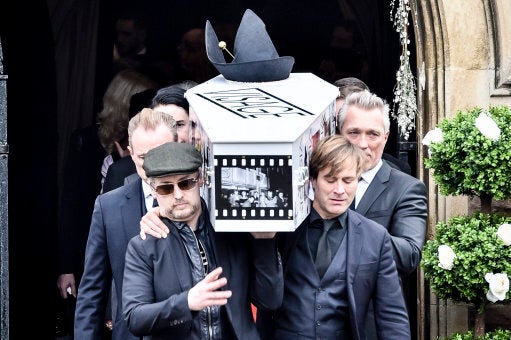 Steve Strange Funeral And Vintage Pictures