An explosion at a primary school building site saw 40 firefighters rush to the scene as the children were evacuated.
Eight fire engines were scrambled to the fire in the grounds of St George's School in Weybridge, Surrey, at 12.37pm on Friday.
Locals reported hearing a loud explosion and large plumes of smoke have been coming from the scene.
One person tweeted: "Never heard such an explosion in my life, thought it was game over."
A Surrey Fire and Rescue spokesman said: "We were called to a fire in Thames Street, Weybridge at 12:37 and have sent eight fire engines, a number of specialist vehicles and around 40 firefighters to the scene.
"We can confirm the exact location of the fire is a construction site on the premises of St Georges School in Thames Street, Weybridge, and everyone at the scene has been accounted for."
A Surrey Police spokesman said that no injuries had been reported and they were assisting the fire service with road closures.
Local councillor Andrew Davis, who saw the fire from his office which overlooks the school, said he could see "acrid and dark" smoke rising from the roof top of a newly-built school building.
He said he could see "very anxious" parents collecting their children and the youngsters were evacuated to a neighbouring playing field.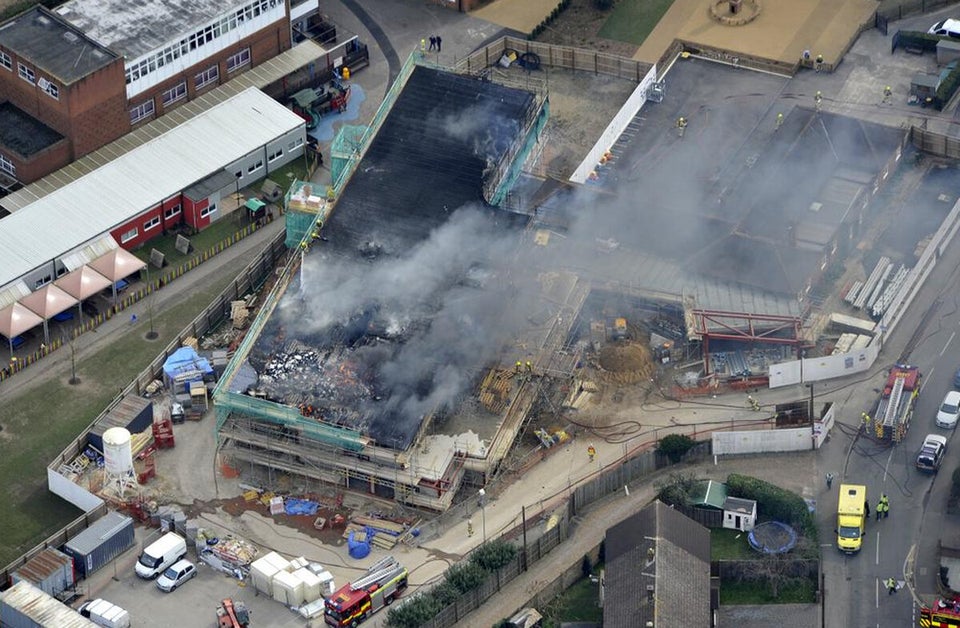 Explosion At Weybridge Primary School
Mr Davis said: "There was an explosion and immediately black smoke went out in to the air which attracted a lot of attention.
"The roof of a new building that was under construction was on fire. I believe the children had been taken from the school to the playing fields next door.
"The smoke was acrid and dark and the reason it was so bad was because the materials that were burnt were tar-like flat-roof materials."
Headteacher Antony Hudson, who took the normal Friday assembly soon afterwards for all the older children, said: "While this has come as a great shock, I am very relieved that not a single person was hurt in any way and I am particularly grateful to my colleagues and the emergency services for dealing with the situation so professionally.
"All the children have returned to class and we very much look forward to seeing them again on Monday morning for business as usual."
The school includes a junior school, a reception and nursery.