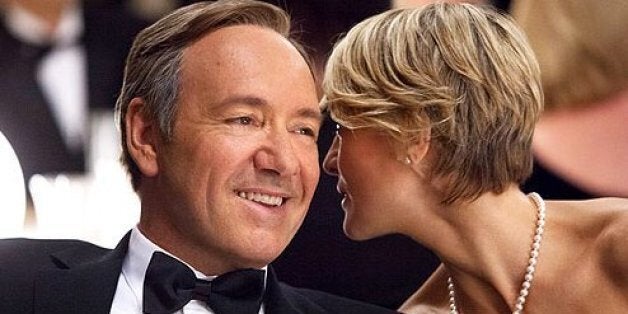 Only 10 short years ago, TV was cinema's poor relation - the place we went to for drop-in quiz shows, chat shows, generic procedural dramas and, of course, a spot of news and weather.
Please join in our study of TV Revolution by adding your answers to our polls below...
How all that has changed! A brief run-down of some of this year's candidates for awards honours - 'True Detective', 'House of Cards' on Netflix, the mould-breaking, double Golden Globe-winning 'Transparent' over on AmazonPrime, nearer to home the triumphs of 'Line of Duty', 'Broadchurch', 'The Missing' - and it's clear that a lot of the best writing, acting, production is to be found on the small screen.
We all know instinctively that everything has shifted, but exactly what kickstarted the change? And, as more and more people turn off their sets and hold up their phones to watch telly, what are the implications for our viewing habits looking into the future, what we watch and how we watch it? HuffPostUK Entertainment is today launching #TVREVOLUTION, a look at the riches and challenges coming with TV's golden age (again).

We've been talking to some of the brightest actors, writers, producers and TV bosses about their perspective on the changing TV landscape, the riches it has to offer and some of the challenges coming with it. We'll be hearing from actors like Toby Stephens - a Bond villain, and Dame Maggie Smith's son to boot, with his choice of parts on the big screen - and why he chose to sign up instead for up to seven years on Amazon Prime drama 'Black Sails'. Also, US film and TV star Julia Stiles ('Dexter', 'The Bourne Ultimatum', '10 Things I Hate About You') reveals the difference between putting on a show for the big screen, the small screen and for the internet - not much, it turns out, if you're the one saying the lines.
A lot of the technology we now take for granted to watch TV on our tablets started with the BBCiPlayer - we'll be talking to them, too, about the next generation of telly, and the implications for the BBC Licence fee.
We're starting today with a chat with those smart cookies at Neflix, and it's a pretty illuminating discussion. For example, can you guess how many episodes an average binge-watcher consumes before finally finding the 'off' button? You'll be surprised... plus their thoughts on where network TV will be in another 10 years (better put your seatbelts on for that one).
Netflix are still brushing themselves down from the triumph of 'House of Cards' (four Primetime Emmy Awards and counting), and they've got a fresh cab off the rank this week, with family drama 'Bloodline', filmed in the Florida Keys, and boasting the star-wattage cast of Sam Shepard, Sissy Spacek, Kyle Chandler and 'Animal Kingdom' Aussie star Ben Mendelsohn. We'll be posting our revealing chat with Ben tomorrow.
In the meantime, we're conducting our own survey of our readers' current viewing habits. Please add your answers to the questions in our polls here and we'll publish the results next week. Did you know that, already, a third of American audiences aged between 18-34 are consuming their TV content to a computer, whether it be smartphone or laptop? We'll be seeing if the Brits are any different...