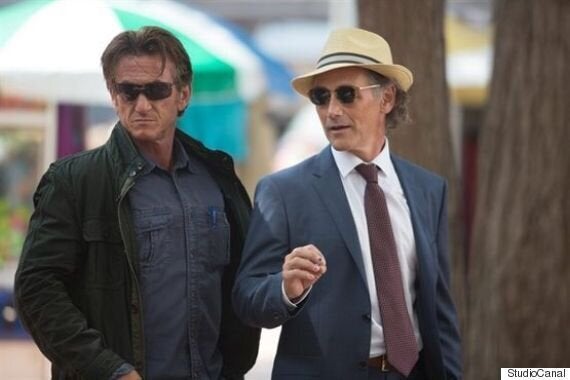 Mark Rylance with co-star Sean Penn in thriller 'The Gunman'
Mark, who stars with Sean in action thriller 'The Gunman' out this week, tells HuffPostUK that he's relieved he and his wife can "wander about in Soho, looking at our favourite things, which Sean and Charlize (Theron) just can't". He also remembers the exact moment the power of celebrity was revealed to him, during their time filming in Barcelona.
"We were going for dinner, and we walked for about 10 minutes, with Sean about 15 yards ahead, along streets lined with cafes and restaurants.
"It was extraordinary, like being behind a big boat. You see all the tables on either side shifting, diners trying to get a picture, certain people getting up and following.
"It was wild to see the effect of all the publicity and marketing of selling tickets and convincing people everywhere that Sean Penn's life as a character is more real and valid than their own life as a human being, and these people would willingly give up their dinner parties and get swept away. "
Mark, a longtime hero of theatre whose own face has become exponentially more recognisable since his turn as Thomas Cromwell in the recent BBC drama 'Wolf Hall', admits he's not immune to the feeling himself.
"I remember doing a film with Bob Dylan – Farts for Hire" ...(the actual film title may have been 'Hearts on Fire' back in 1987)... "and indeed myself feeling my life was worthless around his life. "
Mark is a worthy sparring partner for Sean Penn's military contractor Jim Terrier turned fugitive in 'The Gunman', a high-risk game, where Jim must work out, through a fog of post-traumatic stress disorder, who has betrayed him and why. The odds are, with Idris Elba, Ray Winstone and Javier Bardem also in the cast, that it might be a Brit.
Mark refuses to give the game away, but is happy to muse on why Brits are always given such good, ambiguous roles in these types of films…
"Is it because Americans have a wrongful trust that somehow British people are cleverer?" he ponders.
"I remember being in a bar in Pittsburgh at the time of the Iraq war, and a guy telling me that if our PM Tony Blair had said no to George Bush, they wouldn't have got to war.
"He told me, 'You don't realise how much respect the American public has for British PMs because of Winston Churchill and Margaret Thatcher.'
"There may be an idea amongst scriptwriters that Americans will trust British people, and of course trust is the most valuable thing. "
'The Gunman' is in UK cinemas from Friday 20 March. Watch the trailer below...
Related