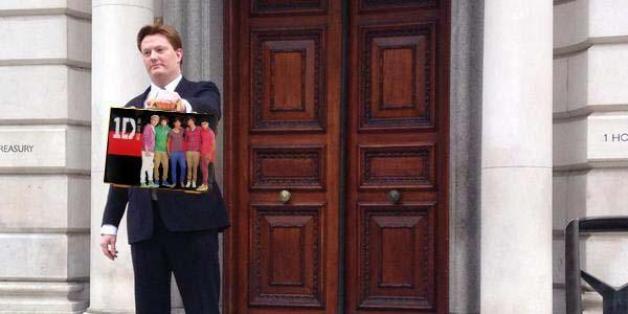 Chief secretary to the Treasury Danny Alexander spoke to the House of Commons on Thursday to outline what he would do differently in response to Chancellor George Osborne's Budget, announced on Wednesday.
Alexander's 'alternative' Liberal Democrat plan didn't go quite as well as Osborne's, and it was made even worse by his briefcase.
Danny Alexander: "If the Lib Dems win the next election..." You can stop there, I think. pic.twitter.com/wZMHYvUzoW

— Martin Daubney (@MartinDaubney) March 19, 2015
The Lib Dem cabinet minister had a special yellow Budget box made, presumably to make a statement or garner more attention, but it just made him a laughing stock.
Danny Alexander looks so proud on his first day at big school pic.twitter.com/PZ3v9EUFkB

— 10printHiRun (@10printHiRun) March 19, 2015
What's in his lunchbox today?
I used my x-ray glasses and I can exclusively reveal what's in the case that Danny Alexander is holding... pic.twitter.com/UzI2qbmiTw

— Elliot Wagland (@elliotwagland) March 19, 2015
Balls Refusing To Shake Hands With Alexander Is The Best Thing From The Budget
He'll be the envy of the whole playground with this thing:
Danny Alexander's alternative Liberal Democrat budget might've been less farcical had it not been written in crayon. pic.twitter.com/5n3JlVdL9t

— Arantxa Colen (@Notorious_AC) March 19, 2015
If only he could find that piece he needs.
Danny Alexander showing what the Lib Dems have been working on: pic.twitter.com/KKEe83Q9QJ

— Allan Williams (@AllanDLWilliams) March 19, 2015
Although it could contain a sign of things to come ahead of 7 May:
Danny Alexander 's box #Budget2015 pic.twitter.com/STVDyrYSM4

— Mark the Fake Vicar (@MarkCollyerReal) March 19, 2015
He might have to go home soon:
Poor Danny Alexander. Looks like it's just sunk in. pic.twitter.com/HLR0TTYoOE

— beaubodor (@beaubodor) March 19, 2015
Even Prezza was getting in on the act:
Huge crowd control required as Danny Alexander launches National Bring Your Lunchbox To Work Day https://t.co/moswFOosNz #Budget2015

— John Prescott (@johnprescott) March 19, 2015
And he didn't exactly get much support from his 56 other fellow Lib Dem MPs, with even two of the party's cabinet ministers, energy secretary Ed Davey and Scottish secretary Alistair Carmichael, appearing to be absent.
The Commons is a *little* bit quieter today for Danny Alexander's Yellow Budget pic.twitter.com/Fs6Ii8Gzj5

— Matt Chorley (@MattChorley) March 19, 2015
But Labour were keen to help Danny out by passing him over the real budget he helped deliver yesterday.
Still, he could get a new job on This Is Your Life:
.@dannyalexander this is your life @SophyRidgeSky pic.twitter.com/7y15Es3HjW

— General Boles (@GeneralBoles) March 19, 2015
SEE ALSO: