Nigel Farage has said that if it is true a high profile Ukip MEP attempted to falsify an expense claim then it would be "one of the most incredibly stupid and dishonest things I've ever seen in my life".
A Ukip disciplinary panel will determine on Monday whether general election candidate and MEP Janice Atkinson should face action over allegations that a member of staff attempted to overcharge EU expenses.
The Sun reported that one of Atkinson's staff members obtained an invoice from a restaurant for a sum more than three times the actual cost of a party event, apparently with the intention of claiming it back from Brussels funds.
The newspaper said the individual told the manager of the restaurant: "The idea is we overcharge them slightly because that's the way of repatriating (the money)."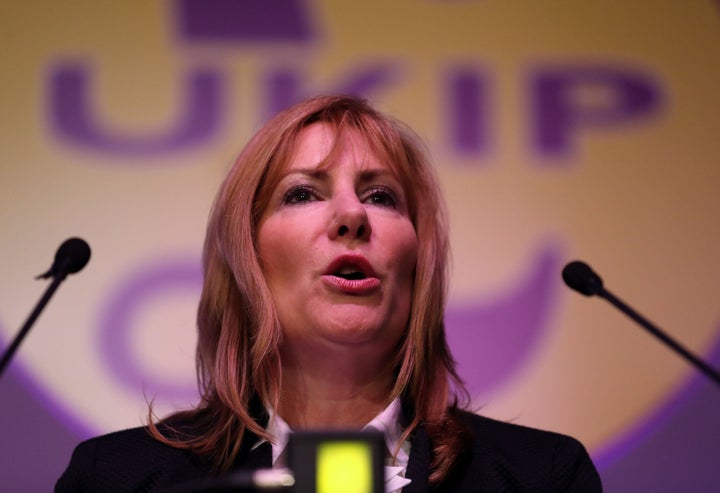 The £950 food and drink cost of the event, held ahead of the party's recent spring conference in Margate, was paid by credit card, according to the report, which included video footage of the discussions over the bill.
But it is alleged that the staff member negotiated for and accepted an invoice for £3,150, made out to the newly-formed grouping of right-wing parties Alliance for Direct Democracy in Europe (ADDE) of which Ukip is the biggest member and its associated foundation the Initiative for Direct Democracy in Europe (IDDE).
Atkinson was due to challenge the Conservatives in Folkestone and Hythe on May 7, but has now been suspended from the party whip and removed as a general election candidate while the party investigates the claims.
Farage said he was unable to get a "clear answer" from Atkinson about what happened when he spoke to her late last night, but Monday's hearing would establish whether she was aware of her staff member's apparent misdemeanour.
The Ukip leader insisted he was not prejudging the case, but said the case appeared to be "one of the most incredibly stupid and dishonest things I've ever seen in my life".
Farage told LBC radio: "I was deeply shocked when I saw it. It was one of the most incredibly stupid and dishonest things I've ever seen in my life. This was a member of staff. Exactly what the relationship between that member of staff asking for a false bill and Janice Atkinson is, I don't know.
"We have suspended Janice Atkinson and we will hold a disciplinary hearing as soon as possible, which will be chaired independently by somebody from the legal profession, and there will be representatives of the national executive of Ukip there, and we will ask the questions and we will judge."
Farage said he had not yet got to the bottom of what had happened: "It would be a mistake for me to prejudge this, but on the evidence of what that member of staff did, it does not look good.
"I spoke to her after midnight last night. She was in bed. I said `What on earth's going on? What is this?'. She said there was a confusion, there was a mess-up. I didn't get a clear answer. She was asleep when I called.
"I'm not going to prejudge this, but as far as the member of staff is concerned, they have asked a commercial enterprise to do something which, as I understand it, is against the law."
He added: "I actually wasn't angry, I was just shocked. I simply couldn't believe that we could find ourselves potentially in this position.
"That's what the inquiry has to find out. I didn't get a very clear answer, but we will find out on Monday. There will be a full disciplinary hearing on Monday and we will pronounce."
In a statement announcing the suspension, a Ukip spokesman said: "The party is incredibly disappointed with Ms Atkinson, who appears to have exercised extremely poor judgment in acting in a way that the party has never, and would never condone.
"The party has acted swiftly and immediately. We always maintain a zero-tolerance attitude towards acts of this nature."
The party was quick to stress that the decision meant Atkinson was no longer its general election candidate in the seat - where Tory Damian Collins is defending a healthy majority of 10,122.
Atkinson found herself in hot water last year after she was caught by TV cameras calling a Thai woman a "ting tong", forcing Farage into making a personal apology.
She insisted the comments were naive rather than malicious and said she was "incredibly sorry" for offending the woman.
The latest disciplinary issue for the anti-EU party came hours after Farage renewed warnings that he expected a "very dirty, nasty" general election campaign and urged his party to "turn the other cheek".
A European Parliament spokesman told the Sun: "The European Parliament has an obligation to refer any evidence which gives rise to the presumption of the existence of possible cases of fraud, corruption or any other illegal activity detrimental to the interests of the Communities to the EU anti-fraud office of OLAF."
A spokeswoman for Kent Police said they were not aware of receiving any reports or allegations relating to the matter.
Popular in the Community