Nine British medical students have travelled to Syria to help wounded people, they have told their families.
Some of the parents of the five men and four women, aged in their late teens and early 20s, are said to have travelled to Turkey this weekend in a bid to get them back.
The students, who reportedly flew to Istanbul from Sudan earlier this month, went to the region "to help, not to fight" and are beleived to be in territory controlled by Islamic State (IS), a Turkish politician assisting the families told The Observer.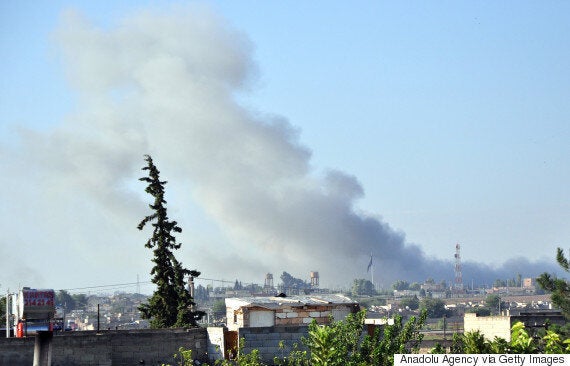 Coalition aircraft bomb Tel Abyad, where the students are believed to be, in October 2014
"We all assume that they are in Tel Abyad now, which is under Isis control. The conflict out there is fierce, so medical help must be needed," Turkish opposition politician Mehmet Ali Ediboglu said.
He said the students were born and raised in England, but had been studying medicine in Sudan as their families had wanted them to experience a more Islamic culture.
He told the paper he thought the students had been "cheated, brainwashed", adding: "Let's not forget about the fact that they are doctors; they went there to help, not to fight. So this case is a little bit different."
One of the women informed her family of the trip via the messenger Whatsapp, the paper reported.
Lena Maumoon Abdulqadir reportedly told her relatives: "Don't worry about us, we've reached Turkey and are on our way to volunteer helping wounded Syrian people." Lena Maumoon Abdulqadir told her family via a WhatsApp message that included this selfie
Her father told a Turkish newspaper he had informed both British and Turkish police of the situation.
A Foreign Office spokesman said: "We are providing consular assistance to the families. We have informed the Turkish police to try and ascertain their whereabouts."
A Home Office spokeswoman said: "The UK advises against all travel to Syria and parts of Iraq.
"Anyone who does travel to these areas, even for humanitarian reasons, is putting themselves in considerable danger.
"The best way for the public to help is to donate to or otherwise support UK-registered charities with ongoing relief operations."
A decision to prosecute someone who has travelled to the war-torn region would depend on the circumstances and nature of the their activity there.
Last week, a judge barred five teenage girls who have shown an interest in going to Syria from travelling abroad.
They attended Bethnal Green Academy, the same school as a 15-year-old who went missing in December, and is believed to have joined IS.
Related